Good morning everyone and welcome to Thursday!
It's Matilda Boseley here and if you are from NSW, I have some good news for you!
Looks like you will be learning your state's path out of Covid-19 lockdowns today, with the state government preparing to release its much-anticipated roadmap of freedoms.
This comes after widespread reports that premier Gladys Berejiklian received a sign-off on the roadmap from the state government's crisis cabinet last night.
She has previously vowed that an easing of the lockdown will start once 70% of the state's over-16 population has received two doses of the vaccine, a goal that's now expected to be met around mid-October.
We might have to wait for the 11am presser for all the confirmed details, but so far the Australian is reporting that bars, restaurants and retail settings will be allowed to reopen – with capacity limits – from 18 October.
Meanwhile, it looks like the mid and north coast of NSW, and the Riverina region in the south-west, will be released from lockdown on Friday, according to ABC reports.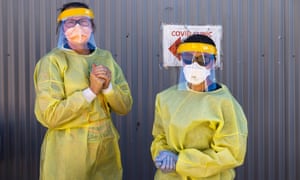 Now, we all know that Scott Morrison hasn't been having a very good week, and would you look at that, he has waded into another controversy for today.
In a prerecorded message at an awards ceremony, Morrison thanked Australian expats around the world for their sacrifice of being unable to return home in order to keep the rest of the country safe from Covid-19.
He credited the locked-out Australian with saving more than 30,000 lives.



Your sacrifices have made that happen. You have saved lives by enduring and going through those difficulties, so thank you – I do appreciate it and your fellow Australians do also.
Morrison spoke at the Advance awards, which celebrates the achievements of Australians overseas. In this speech he acknowledged frustration and suffering expats have been endured, being stranded overseas, effectively lockdown out of Australia, as well are promising home quarantine would be par for the course by the end of the year.
OK, with all of that out of the way, why don't we jump into the day!