No one will force Taipei to take the path laid out by Beijing, Tsai Ing-wen has vowed on Taiwan's national day, pledging to continue bolstering the island's military defences.
Responding to repeated threats from China's leaders that it will one day take Taiwan – by force if need be – and overthrow its democratically elected government, the president said Taiwan had the resolve to defend itself and its future, which "must be decided in accordance with the will of the Taiwanese people".
Tsai made the comments at formal celebrations in Taipei on Sunday, at the end of one of the most tense weeks between China and Taiwan for decades, including record numbers of Chinese military flights into Taiwan's defence zone and a speech by Xi Jinping of China vowing reunification with Taiwan.
Tsai said Taiwan would not "act rashly" but "there should be absolutely no illusions that the Taiwanese people will bow to pressure".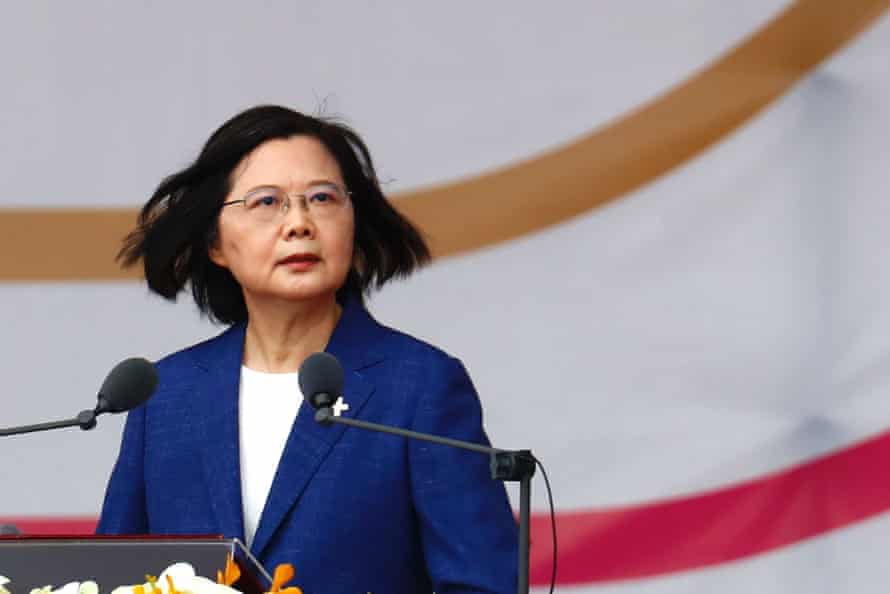 "We will continue to bolster our national defence and demonstrate our determination to defend ourselves in order to ensure that nobody can force Taiwan to take the path China has laid out for us," she said. "This is because the path that China has laid out offers neither a free and democratic way of life for Taiwan, nor sovereignty for our 23 million people."
Later on Sunday, Beijing denounced the address. "This speech advocated Taiwan independence, incited confrontation, cut apart history and distorted facts," China's Taiwan Affairs Office said.
Tsai's speech marked the final key event of Double Ten Day, Taiwan's national anniversary, which officially commemorates the 1911 Wuchang uprising and overthrowing of the ruling Qing dynasty, which led to the creation of the Republic of China.
At the end of China's civil war in 1949 the losing Kuomintang government fled to Taiwan, establishing the Republic of China (Taiwan), while the Communist party established the People's Republic of China on the mainland.
The Communist party has never ruled Taiwan but claims it as a breakaway province. Xi has labelled the Taiwan government as separatists, and vowed to take the island. Tsai says Taiwan is already a sovereign nation with no need to declare independence.
In her speech Tsai said 72 years of development had transformed the face of the nation, but the resolve to uphold sovereignty was unchanged and shared across party lines.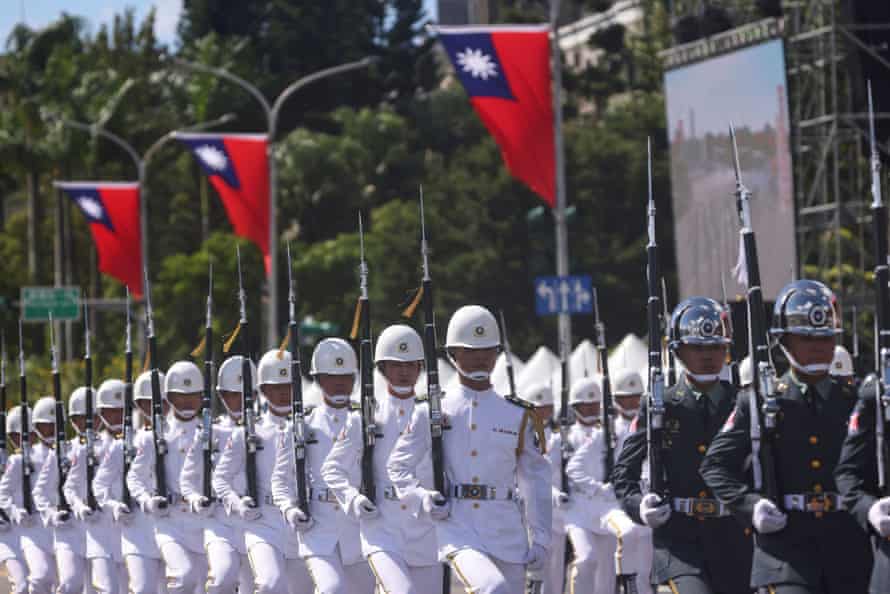 "Taiwan is no longer seen as the orphan of Asia but as an island of resilience," she said. "Our military's dedication to protecting our nation and our understanding of why we fight is rooted in that conviction, passed down through generation after generation."
Security was tight in the lead-up to Sunday's event. Major roads around the presidential office building, in Taipei's Zhongzheng district, had been closed since midnight, with entry to the parade area strictly controlled, in part out of pandemic-related caution.
Hundreds braved the heat to secure entry to the public viewing areas, queueing from the early hours to get a glimpse of Tsai, performances by young Taiwanese dancers, martial arts competitors, and the various arms of Taiwan's military.
The festivities ended with air force aerial demonstrations and a show of Taiwan's military hardware. The parade was led by Taiwan's Olympic team, including its civil services, military, and pandemic responders.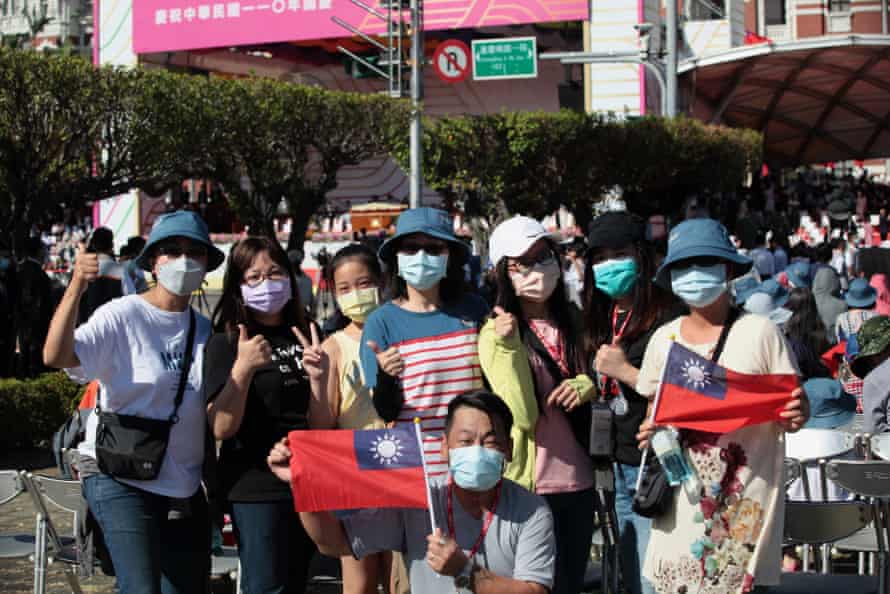 "We are here to celebrate our national birthday," said Shalley, a nurse, at the event.
Asked how she felt about last week's incursions, Shalley said it was a political question, but added: "For me, I don't feel any crisis or fear of the planes. I just do my everyday work.
"I'm very proud to be a Taiwanese person. We want peace and safety for our lives. It's very important. It doesn't matter the political issues for us, we just want peace and safety and happiness every day."
Last weekend, over China's national day weekend, the People's Liberation Army (PLA) flew about 150 planes into Taiwan's air defence identification zone – a large area buffering Taiwan's sovereign airspace – in what was labelled by the US a "provocative" act of intimidation.
On Saturday Xi reiterated China's claims, but did not refer to the use of force. Instead he said "reunification" by peaceful means was "most in line with the overall interest of the Chinese nation, including Taiwan compatriots".
"Taiwan's independence separatism is the biggest obstacle to achieving the reunification of the motherland, and the most serious hidden danger to national rejuvenation," he said.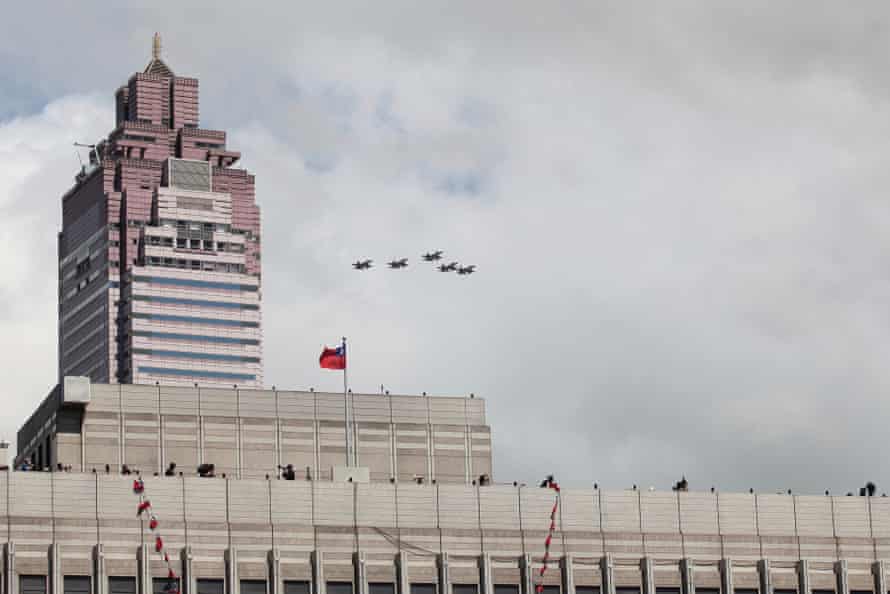 In response Taiwan called on Beijing to abandon its "coercion" and said only Taiwan's people could decide their future.
Tsai's speech also praised Taiwan's economic growth, saying it was "back in the league of the four Asian tigers", and no longer dependent on a single market. But she said no country could maintain momentum without a consistent energy policy, and Taiwan would work towards net zero emissions by 2050.
She also paid condolences to the families who had lost loved ones to Taiwan's Covid-19 outbreak.
Reuters contributed to this report