Here's the full wrap of the Covid situation in Victoria, via AAP:
Victoria has received a "significant" first batch of three million rapid antigen tests, which will soon be handed out to the state's essential workers, people with pre-existing conditions and community groups.
The state posted 28,128 new COVID-19 infections and another 13 deaths on Sunday, as hospitalisations with the virus continue to climb.
Premier Daniel Andrews announced the state's "significant first batch" of three million RATs has arrived, from a bulk order of 44 million.
They will be distributed to essential workers in health and aged care, disability and emergency services from Monday.
Victorians with pre-existing conditions, that make them susceptible to severe illness, will also be prioritised for a RAT to ensure they are diagnosed so that care can be quickly provided.
Additionally, 60 community and multi-faith organisations would receive a "modest but important" portion of the free RATs, to be handed out in a culturally appropriate way, Mr Andrews said.
"Three million is a very important start, we are working very hard to make sure that each and every one of the orders that make up the 44 million are honoured," he told reporters on Sunday.
"That will be three million tests that don't need to be sourced elsewhere, so that alleviates some pressure."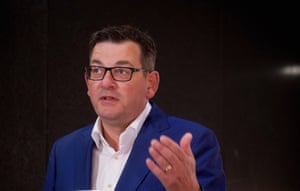 Authorities handed out more than 400,000 free RATs to people at state testing sites last week.
Deputy Chief Health Officer Ben Cowie said the additional RATs would allow people to begin their isolation periods sooner and ensure they were linked to care faster.
"It is great news that the tide is starting to turn on the supply of rapid antigen tests in Victoria," he said.
"We are all going to have significantly increased access in the coming days and weeks."
Meanwhile, Mr Andrews flagged the state government would soon make an announcement on what the return of schools would look like.
"We will have another discussion this coming Thursday, and we look forward to making announcements quite soon," he said.
"Lots of officials are working really hard on the return to school."
There are a record 1114 patients in Victorian hospitals with COVID-19, 60 more than the 1054 on Saturday.
The number of people in ICU has grown to 122, with 35 on ventilators, five more than the previous day.
Professor Cowie said hospitalisations were increasing "significantly" every day and health teams were working to build up capacity.