News of Japan's plans to declare a state of quasi-emergency broke earlier. Here's our Tokyo correspondent, Justin McCurry, with the latest on the country's Covid measures.
Japan's prime minister, Fumio Kishida, is poised to declare a quasi-state of emergency in Tokyo and several other regions after the country reported the highest number of new coronavirus cases since the start of the pandemic.
Kishida is expected to make a formal announcement this week, giving local governors the power to ask bars and restaurants to stop serving alcohol and close early and residents not to travel across prefectural borders.
Japanese authorities do not have the legal power to impose shorter operating hours or restrictions on people's movements, but businesses that refuse to cooperate can face fines.
Japan reported more than 30,000 new infections on Tuesday, well above the previous record of almost 26,000 last August, just after Tokyo had hosted the summer Olympics. The Japanese capital reported 5,148 new cases – a more than fivefold increase from the same day last week – while Osaka recorded 5,396 infections.
The measures will reportedly go into effect on Friday in Tokyo and 12 other prefectures and end on 13 February. Okinawa and two other prefectures are already under quasi-emergency measures following outbreaks at US military bases that spread to local civilian populations.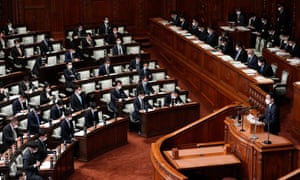 The Omicron variant appears to be driving the latest surge in cases in what officials are describing as a sixth wave. "The Omicron variant is clearly different from existing variants. It is crucial to take effective measures that suit its characteristics," the government's chief health adviser, Shigeru Omi, told reporters after meeting Kishida.
The chief cabinet secretary, Hirokazu Matsuno, acknowledged that infections were spreading at an "unprecedented speed", adding that there were concerns over pressure on hospitals if cases continued to rise dramatically.
Tokyo's occupancy rate of hospital beds for Covid-19 patients reached 23.4% on Tuesday – occupancy would have to reach 50% to trigger a full-blown state of emergency.
About 80% of Japan's 125 million population is double vaccinated, but only around 1% has received a booster shot. The government has promised to speed up boosters, but most people will have to wait until March or later under the current schedule.