Real civilian death toll 'thousands higher' than official figures, says UN
The number of civilians killed in Ukraine since the beginning of the war is "thousands higher" than official figures, the head of the UN's human rights monitoring mission in the country said.

The official UN civilian death toll in Ukraine stands at 3,381, as well as 3,680 injured. When asked about the number of deaths and injuries, Matilda Bogner told reporters:
We have been working on estimates, but all I can say for now is that it is thousands higher than the numbers we have currently given to you.
The UN team, which includes 55 monitors in Ukraine, said most of the deaths have been caused by explosive weapons with a wide impact area, such as missile and air strikes.
Bogner added:
The big black hole is really Mariupol where it has been difficult for us to fully access and to get fully corroborated information.
She said her team was also investigating "credible allegations" of torture, ill-treatment and executions by Ukrainian forces against the Russian invading forces and affiliated armed groups.
Bogner said:
In terms of the extent of violations by Ukrainian forces, while the scale is significantly higher on the side of allegations against Russian forces, we are also documenting violations by Ukrainian forces.
Hello. I'm Léonie Chao-Fong and I'll be bringing you the latest news from the war in Ukraine. Feel free to get in touch on Twitter or via email.
The French side have offered a diplomatic read-out of a call between France's President Emmanuel Macron and his Chinese counterpart Xi Jinping. Reuters reports that the communique from the Elysee presidential office said that subjects discussed included the situation in Ukraine and the world-wide food crisis resulting from the war.
"The two heads of state reiterated their commitment to respect the territorial integrity and sovereignty of Ukraine", the Elysee said.
China has not yet commented on the call.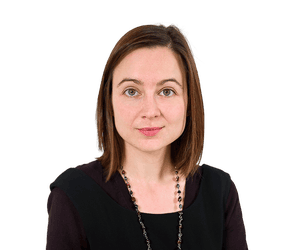 Jennifer Rankin
France has said a deal on a proposed EU ban on Russian oil could be struck this week, despite opposition from the Hungarian prime minister, Viktor Orbán, who has compared the plans to an atomic bomb.
The French president, Emmanuel Macron, is due to hold a phone call with the Hungarian leader later on Tuesday in a bid to break the deadlock. Clément Beaune, an ally of Macron and France's Europe minister, said he thought "we could strike a deal this week".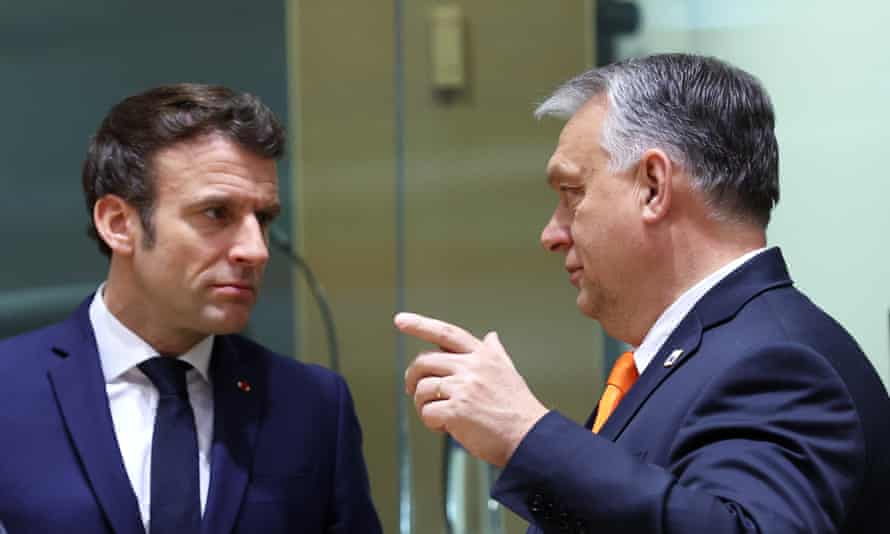 Meanwhile, Ursula von der Leyen said there had been progress after making a last-minute dash to Budapest to discuss the plans with Orbán on Monday night.
The European Commission president described the discussion as "helpful to clarify issues related to sanctions and energy security". She added: "We made progress, but further work is needed," promising to hold a video conference with other countries in the region to boost cooperation on oil infrastructure.
EU diplomats insist all 27 member states are united behind the idea of a ban on Russian oil, with sources close to the talks describing the delay as technical rather than political.
But the EU had hoped to announce the oil embargo and a new set of sanctions on influential Russians before last weekend, following Von der Leyen's presentation of the plans at the European parliament last Wednesday.
Lithuania's parliament voted unanimously to describe Russia's actions in Ukraine as "genocide" and "terrorism" and called for an international tribunal to prosecute suspected war crimes.
The motion said Russian forces' war crimes included the deliberate killing of civilians, mass rape, forcible relocation of Ukrainian citizens to Russia and the destruction of economic infrastructure and cultural sites, Reuters reports.
The Lithuanian parliamentary motion, co-sponsored by the prime minister, Ingrida Šimonytė, read:
The Russian Federation, whose military forces deliberately and systematically select civilian targets for bombing, is a state that supports and perpetrates terrorism.
It follows a similar unanimous vote by Canadian lawmakers last month to call Russia's attacks in Ukraine a "genocide".
Britain, the EU and the US have publicly blamed Russia for a massive cyber-attack against a satellite internet network an hour before the Russian president, Vladimir Putin, ordered his troops to invade Ukraine.
The digital attack on Viasat's KA-SAT network in late February took thousands of modems offline and helped facilitate Putin's invasion of the country, the Council of the EU said in a statement.
The cyber-attack had a "significant impact" and caused "indiscriminate communication outages and disruptions across several public authorities, businesses and users in Ukraine, as well as affecting several EU member states", the statement said, adding:
This unacceptable cyber-attack is yet another example of Russia's continued pattern of irresponsible behaviour in cyberspace, which also formed an integral part of its illegal and unjustified invasion of Ukraine.
The UK's national cyber security centre has assessed that Russian military intelligence was almost certainly involved in the 13 January attacks on Ukrainian government websites, as well as the subsequent attack impacting Viasat on 24 February.
Britain's foreign secretary, Liz Truss, said Russia would face "severe consequences" for its "malign behaviour and unprovoked aggression" across land, sea and cyberspace, adding:
This is clear and shocking evidence of a deliberate and malicious attack by Russia against Ukraine which had significant consequences on ordinary people and businesses in Ukraine and across Europe.
Russia routinely denies it carries out offensive cyber operations.
More than 8 million people displaced in Ukraine, says UN
The UN's migration agency said more than 8 million people had been internally displaced in Ukraine since Russia began its invasion on 24 February.

The figures, published in a report by the International Organisation for Migration (IOM), represent a 24% increase compared with the first internal displacement figures published on 16 March.
Nearly half of those people were considering further relocation due to the humanitarian crisis in the country, the report said. More than 2.7 million people have returned home.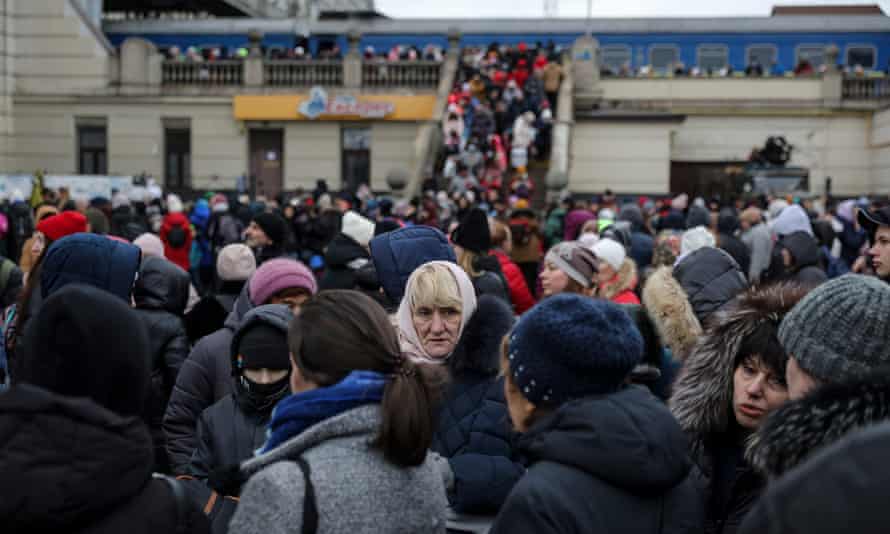 The survey highlights financial support as the overwhelming need among people who have been internally displaced in Ukraine. Two-thirds of people identified cash assistance as one of their needs, compared with 49% at the beginning of the war. More than 70% said they would use that cash assistance to buy food or medicine.
Russia will not be taking part in a special session of the UN's human rights council on Ukraine, the foreign ministry said.
The council announced yesterday that it would hold a special session to examine "the deteriorating human rights situation in Ukraine stemming from the Russian aggression".
More than 50 countries, including Britain, Germany, Turkey and the US backed the request by Kyiv and demanded an extraordinary meeting of the UN's top rights body.
Russia's foreign ministry spokesperson, Maria Zakharova, said the Russian delegation "will not legitimise with its presence this new political show organised under the guise of an extraordinary session".
In a statement, Zakharova said:
Unfortunately, our arguments and explanations on the true objectives of this special military operation and the real situation on the ground have been completely ignored.
She said it was "evident" that Russia's arguments "will not be heard this time either" during the west's "new anti-Russian measure".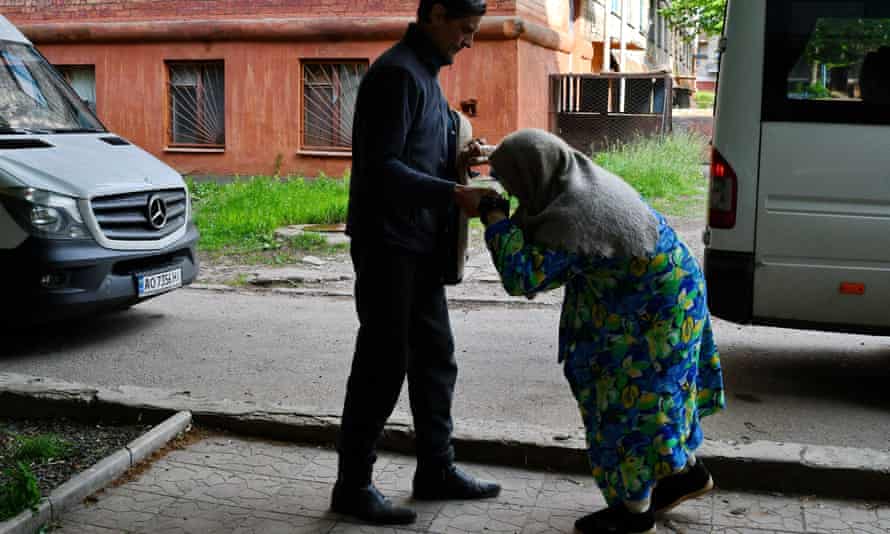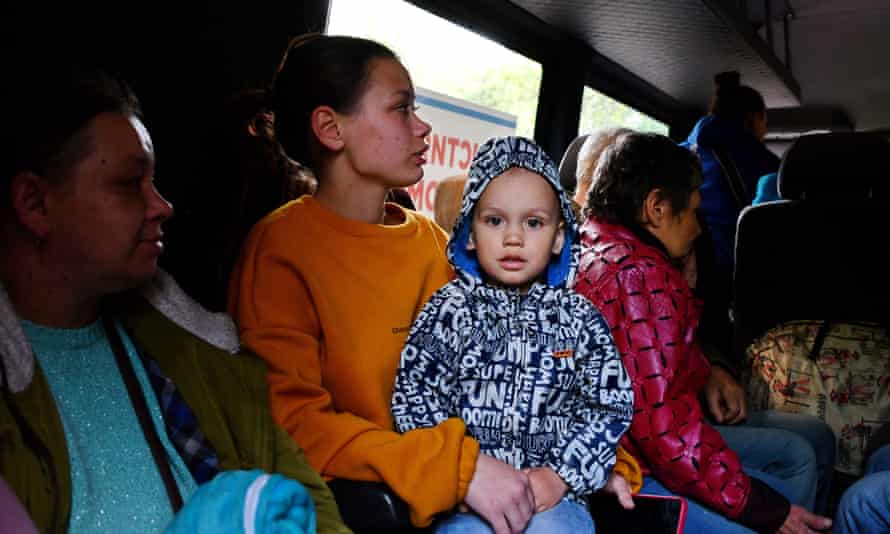 A recent rise in dolphin deaths in the Black Sea may have been caused by the war in Ukraine, scientists have said, Selin Uğurtaş reports.
Researchers believe heightened noise pollution in the northern Black Sea, caused by about 20 Russian navy vessels and ongoing military activities, may have been driving cetaceans south to Turkish and Bulgarian shores, where they are being stranded or caught in fishing nets in unusually high numbers.
Since the beginning of the war, Turkey has recorded a rise in strandings of the common dolphin (Delphinus delphis) across its Black Sea coast. More than 80 of the animals were found dead across the country's western Black Sea, which the Turkish Marine Research Foundation (Tudav) described as "an extraordinary increase".
Initial investigations by Tudav revealed about half of these dolphins were killed after getting entangled in fishing nets. The fate of the other half, however, is still an "unanswered question", according to Dr Bayram Öztürk, the chair of Tudav, as no signs of entanglement or gunshot wounds could be found on the carcasses.
"Acoustic trauma is one of the possibilities that come to mind," Öztürk said, although he stressed it was important to remain cautious. "We don't have proof on what low frequency sonar may cause in the Black Sea because we have never seen this many ships, and this much noise for such an extended time – and science always demands proof."
Navies commonly rely on sonar to detect enemy submarines from great distances. Because marine mammals also depend on sound for communication and other functions, the underwater noise can have serious, even fatal, effects on cetaceans.
According to Dr Pavel Gol'din, a researcher at Ukraine's National Academy of Sciences, while acoustic trauma may explain the strandings, constant underwater noise caused by military activities could explain the higher bycatch rate.
Germany's foreign minister, Annalena Baerbock, and her Dutch counterpart, Wopke Hoekstra, visited areas around Kyiv devastated by the war on a surprise visit to Ukraine.
Both visits were unannounced, with Baerbock visiting the town of Bucha, which has become synonymous with allegations of Russian war crimes after dozens of bodies in civilian clothing were found in the streets. Baerbock is the highest-ranking German government official to visit Ukraine since the beginning of the war.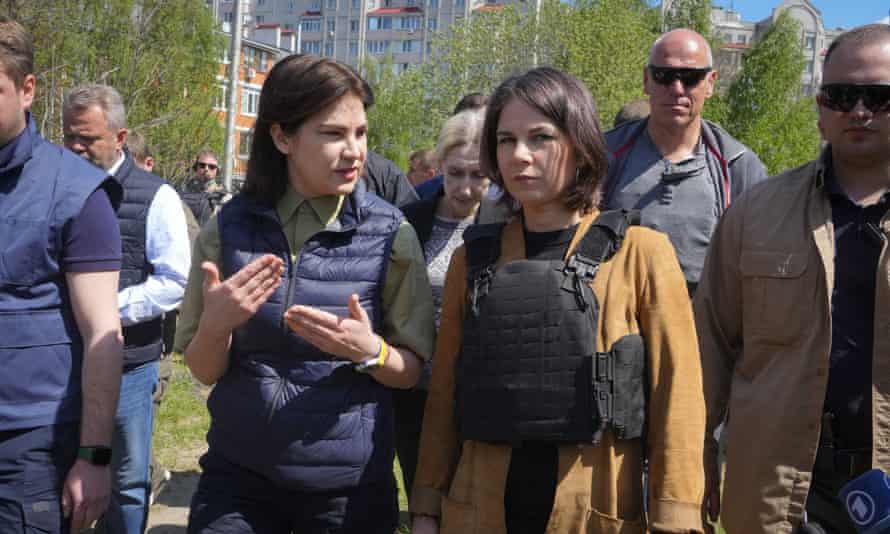 As she walked around the town with Ukraine's general prosecutor, Iryna Venediktova, Baerbock said those responsible for the killings in Bucha should face justice.
Baerbock said:
That is what we owe to the victims. And these victims, you can feel that here very intensely, these victims could have been us.
Hoekstra tweeted that he had visited Irpin, another town near Bucha where Russian troops are alleged to have carried out atrocities.
Hoekstra is also scheduled to meet with his Ukrainian counterpart, Dmytro Kuleba, and with President Volodymyr Zelenskiy, a spokesperson from the Dutch foreign ministry said.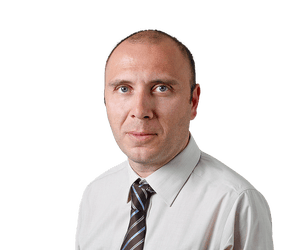 Dan Sabbagh