Starmer says PM 'choosing to let people struggle' with cost of living
Starmer says Johnson does not get it. He does not understand what people are going through. Every day, energy companies rake in £32m in unexpected profits. Every day he is delaying his "inevitable U-turn". "He is going to do it." The delay is making it worse for people. He says:
Whilst he dithers British households are slapped with an extra 53 million on their energy bills every single day. Meanwhile every single day North Sea oil and gas giants rake in 32 million in unexpected profits. Doesn't he see that every single day he delays his inevitable U-turn, he's going to do it, he's choosing to let people struggle when they don't need to.
Johnson says the govenrment is already spending £22bn on helping people. It can do this because it took the tough decisions to get people out of lockdown. And taxes are being cut in July, he says.
He says he will look at all measures to support people.
Damian Green, the former Conservative first secretary of state, used his speech in the Queen's speech debate to criticise Nadine Dorries, the culture secretary, over her plans to privatise Channel 4.
Accusing her of ignoring the views of production companies who contributed to a consultation on the company's future, Green (who once worked for Channel 4 News) said:
If you care about a successful sector, and the creative sector is successful, and the many small businesses who make programmes for Channel 4 are particularly successful, you should listen to it when it tells you how best to strengthen it for the future.

As a Conservative I find it extraordinary that we have a Conservative government that is saying 'the gentleman from Whitehall knows best', that the government is deciding how best to run this particular part of this particular sector, ignoring in particular the small businesses that make it up.

I thought listening to small business was a core Conservative aim. We seem to be ignoring this.
Green also said that the consultation launched by Dorries into the future of the BBC licence fee was "a sham" because she has already said she thinks the licence fee has to go.
Rachel Reeves, the shadow chancellor, opened the final day of the debate on the Queen's speech. Echoing the line of attack used by Keir Starmer at PMQs, she said the government was failing to help people through the cost of living crisis. She said:
We meet today when inflation has hit its highest level for 40 years. Every pound that people had last year can only purchase 91 pence worth of goods today. That's what inflation of 9% means. Our country had a cost-of-living crisis and a growth crisis, prices rising, growth downgraded and no plan for the future.

None of this though, is inevitable. It is a consequence of Conservative decisions and the direction that they have taken our economy in over the last 12 years. This government is increasingly a rudderless ship heading to the rocks, while it is willing to watch people financially drown in the process.

Where is the urgency? Where is the action? Because the time to change course is now. We need an emergency budget to deal with the inadequacy of the chancellor's spring statement, with a windfall tax to help get bills down and help families and pensioners weather this storm.

On the day that inflation has reached a 40-year-high, the chancellor is missing in action.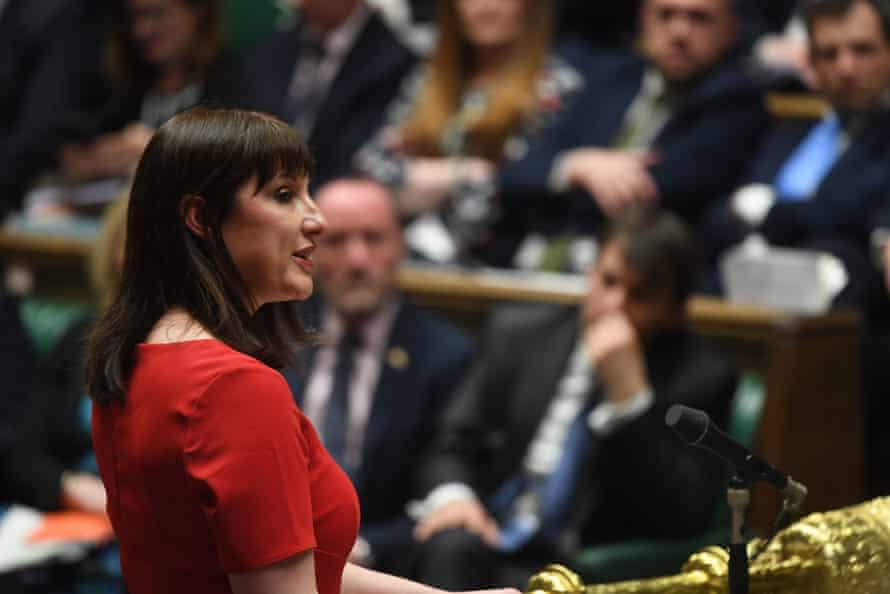 Sky has released pictures of Sir Kenneth Branagh playing Boris Johnson in This England, its drama about how Johnson responded to the Covid pandemic.
There is a trailer here.
New legislation which aims to draw a line under the Troubles has been described as a "very bitter pill" for victims to swallow, PA Media reports. PA says:
The Northern Ireland Troubles (legacy and reconciliation) bill will see immunity from prosecution for Troubles-era crimes be offered to those who are deemed to have co-operated with an information retrieval body.

It will also close down future inquests and investigations, with a new independent Commission for Reconciliation and Information Recovery (ICRIR) put in place.

Those deemed to have co-operated with the commission will be offered immunity from prosecution.

The commission is planned to be led by a senior judge for five years, with likely two teams of qualified investigators and funding of £30m per year.

Most political parties and victims groups as well as Amnesty International have expressed concern and opposition to the plans.
Northern Ireland's commissioner for victims and survivors, Ian Jeffers, said it was a "very bitter pill to swallow" for victims. He told the BBC:
It does feel as if some of the last chances for what some victims would say is justice has been removed.

Everybody recognises it's 40 years, it's 50 years, the chances of a conviction are very slim.

But if you've lost your mother or your son are you going to genuinely give that up?

I think that's the big issue we've got to talk through with victims and survivors over the coming weeks.
Robert Halfon, the Conservative chair of the Commons education committee, has restated his support for a windfall tax on energy companies on Radio 4's World at One. The tax could be imposed on a "yearly basis, until the crisis is over", he said, with the money being used to cut energy bills. He said:
I reckon there are arguments on both sides on this in terms of employment and investment, I get it. But I think desperate times call for desperate measures and we must do this, and we must do it quickly.
Priti Patel, the home secretary, visited a fire station in London today to mark the publication of the government's fire reform white paper. It contains proposals to improve the professionalism of the service, by spreading modern workplace practices and potentially setting up a College of Fire and Rescue, and to overhaul governance arrangements for fire services.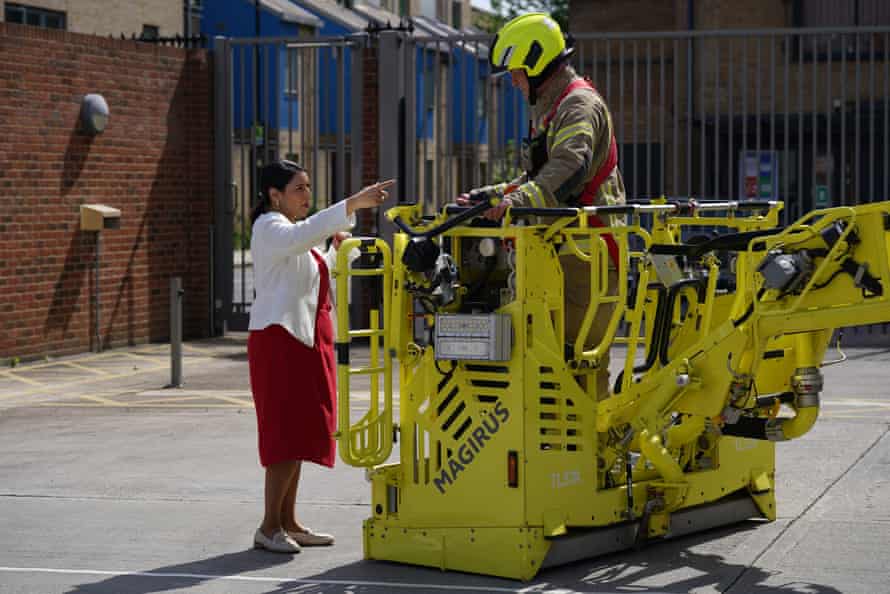 Talk of trade war with EU over NI protocol 'deeply unhelpful', says environment secretary
George Eustice, the environment secretary, told MSPs this morning that talk of a trade war with Europe over the Northern Ireland protocol was "unhelpful".
The European Commission hinted that the UK's plan to legislate to ignore parts of the protocol could trigger a trade war when it said yesterday it would respond "with all measures at its disposal" if the bill went ahead.
Giving evidence to the rural affairs committee in the Scottish parliament, Eustice said:
All this speculation around trade wars, we think is deeply unhelpful. In fact, I think what we're seeing is a more measured tone from the European Union and indeed from ministers in Ireland as well.

People recognise that there's a challenge here we need to resolve and there's nothing that we are proposing that breaches international law, it's consistent with our obligations.
Eustice also described the use of the term "trade war" as "media hype".
Keir Starmer opened PMQs by asking if Boris Johnson was in favour of a windfall tax on energy companies, against the idea, or just sitting on the fence. By the end of the exchanges, we were no clearer than we were before they started. More than once, Johnson said that he would look at all measures that might help with the cost of living, implying the option is still very much on the table. But then he also stressed his ideological queasiness with the whole idea, telling Starmer:
Nothing could be more transparent from this exchange than their [Labour's] lust to raise taxes. We don't relish it, we don't want to do it, of course we don't want to do it, we believe in jobs and we believe in investment and we believe in growth. As it happens, the oil companies concerned are on track to invest about £70bn into our economy over the next few years, they're already taxed at a rate of 40%.
If Johnson was trying to conceal his intentions, it was masterful.
But today wasn't the day for concealing intentions, and bamboozling the press. (We're not a week away from a budget.) It sounded much more as if Johnson was appearing hopelessly undecided because he is hopelessly undecided – buffeted between the Daily Telegraph telling him this morning that a windfall tax would be "wildly popular" and Liz Truss on the radio warning him that a windfall tax would be un-Tory. (See 9.11am.)
Starmer set out to show that the government's response to the cost of living crisis was feeble and ineffective and he did so very effectively. He produced a useful soundbite when he claimed that, because a windfall tax U-turn was now "inevitable", Johnson's ongoing dithering meant "he's choosing to let people struggle when they don't need to". (See 12.11am.) But Starmer's best question was easily his final one, where he personalised the issue, and asked about a patient struggling with the bills to keep his dialysis machine running. The i's Paul Waugh says it was a humbling moment for the Tories.
Faced with criticism like this, the most effective response for a PM is to be able to say: "I hear you, and we're going to do X." That is not yet an option for Johnson because the decisions have not yet been taken, and instead he resorted to cataloguing the measures already adopted by the government, and claiming that these were only possibly because of the Conservative's sound stewardship of the economy. Johnson sounded bullish, but not at all persuasive; the second point is highly tenuous, and the first amounted to pleading with voters to be grateful for measures already taken (which can be problematic, because the electorate tends to be more interested in the future than the past).
Johnson also resorted to two peculiar red herrings. At one point he said that sanctions on Russia were always going to cause problems, but that "giving in, not sticking the course" would be a bigger economic risk. This would make sense if Starmer were advocating abandoning sanctions – but he isn't. And in his first response to Starmer, Johnson went studs up on the culture wars, accusing Starmer of not even being able to define a woman. (See 12.06pm.)
It is not the first time Johnson has sought to weaponise the trans issued at PMQs, and there are probably some in Tory HQ who believe that issues like this could sway an election. (Tony Blair seems to thinks so; in a paper published last week, he said Starmer should be "staking out a position on the 'culture-wars' issues that plants Labour's feet clearly near the centre of gravity of the British people".) But today, when Johnson raised the subject, it just sounded irrelevant. Politicians have to address the issues that matter to the public at any given moment and at the next election it seems certain that the essay question will be, 'What do you do about the cost of living?' Without an answer to that, wittering on about how you define a woman won't be much use.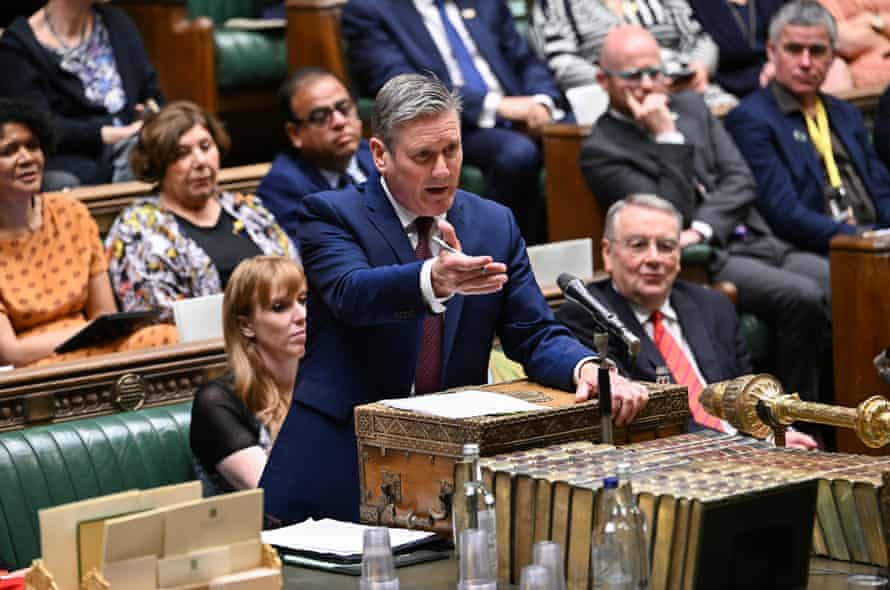 Hannah Bardell (SNP) asks how the PM is doing in terms of following the principles in the ministerial code.
Johnson says "10 out of 10". He says the majority of MPs in the Commons are working hard, doing a good job and behaving properly.
Richard Thomson (SNP) says in February a flight was allowed to leave Inverness airport for Russia when sanctions were in force. The government knows it was due to leave, but did not stop it. Why was that?
Johnson says he does now know, but that he will look into it.
Alex Sobel (Lab) asks if Johnson agrees with the minister who said people who are hard up should get a second job. Or does he support an emergency budget?
Johnson says the government is taking steps to help people. It can do so becaause the fundamentals of the economy are strong, he says.
Tom Randall (Con) asks if everything is being done to ensure the rate at which driving licences are issued by the DVLA.
Johnson says processing times are speeding up.
Johnson says the government is committed to delivering the dementia moonshot. But Labour voted against £13bn a year extra for the NHS, he says.
Richard Holden (Con) asks about Durham, which should be more than a good place to come for a beer and curry, he says. (Holden led the drive to get Durham police to reopen its investigation into Beergate.)