Texas mass shooting: what we know so far
Hello readers, Guardian reporter Kari Paul here logging off after what has been a very heavy day. Details are still emerging in the mass shooting that occurred in Uvalde, Texas this morning. My colleagues in Australia will be with you soon. Here is what we know so far:
An 18-year-old man in Texas opened fire in an elementary school, killing at least 19 students and two adults.
Earlier in the day, Texas governor Greg Abbott had told reporters at least 14 children and one adult had been killed in the school shooting in the south-west of the state. The death toll was later updated by Roland Gutierrez, a Texas state senator who was briefed by police.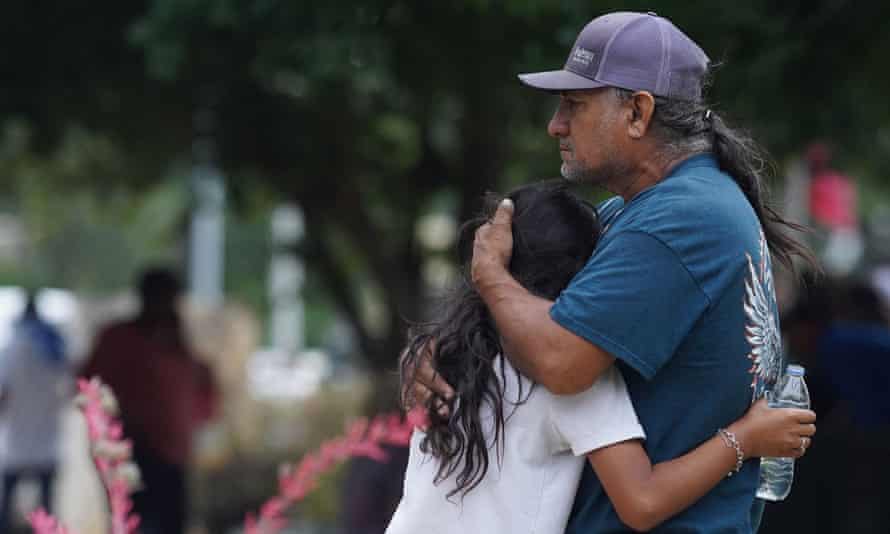 Few victims have been publicly identified, but one adult has been confirmed as fourth-grade teacher Eva Mireles. "I'm furious that these shootings continue," her aunt said in a statement. "These children are innocent. Rifles should not be easily available to all."
Gutierrez offered more harrowing details from the attack: the suspect, 18-year-old Salvador Ramos, shot his grandmother at her home in the morning and fled the scene by car before wrecking his vehicle outside the elementary school. He ran into the school and began shooting, Gutierrez said.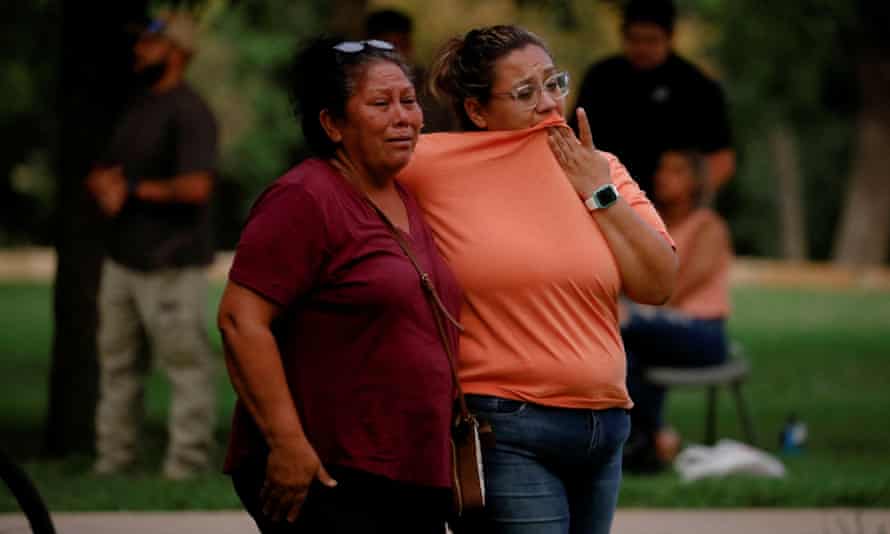 The shooting took place at Robb elementary school in Uvalde, a heavily Latino community about 85 miles west of San Antonio near the Mexico border. The school serves about 570 children, nearly 90% of them Latino.
The school had children who were in second, third and fourth grade, a police spokesperson for the school said.
Joe Biden addressed the nation on Tuesday night shortly after returning to the White House from a five-day trip to Asia. The president called for "common sense" gun laws and said "it's time to turn this pain into action".
US Senator Chris Murphy, who came to Congress representing Sandy Hook, begged his colleagues to finally pass legislation addressing the nation's gun violence problem. "What are we doing?" Murphy said. "I'm here on this floor to beg, to literally get down on my hands and knees to beg my colleagues. Find a path forward here. Work with us to find a way to pass laws that make this less likely."
Hal Harrell, superintendent of the Uvalde Consolidated Independent school district, said Tuesday that Robb elementary school will be closed and all school activities will be cancelled until further notice. Harrell also said grief counselors would be available starting Wednesday morning. "My heart is broken today," Harrell said. "We're a small community and we're going to need your prayers to get through this."
As more details continue to pour in, here is a video report compiled by some of our reporters detailing some of the facts we know so far.
Sandy Hook families speak out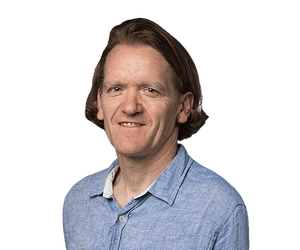 Martin Farrer
The families of people killed in the Sandy Hook elementary school shooting have pleaded for action on gun control in the wake of the killings at Robb elementary school in Texas.
Erica Leslie Lafferty, whose mother was killed in the massacre in Connecticut in 2012, said that it was "beyond time to take action" in the wake of the attack in Uvalde which has left at least 19 children and two adults dead.
"Thoughts and prayers didn't bring my mother back after she was gunned down in a hallway at Sandy Hook, she said on Twitter. It is beyond time to take action."
She said she had struggled with PTSD after the massacre. "My heart is with #RobbElementarySchool families, faculty and the community. I'm broken."
Speaking later on CNN, Lafferty said: "These families in that community are walking into hell and there is definitely a network of people out there who have lived it, who are stepping up to support them … But it's not going to just go away. Not for the families, not for the community. It's life-changing. It's devastating. It's traumatizing, and every single time it happens, it brings it back like it was yesterday."
Neil Heslin, whose son Jesse Lewis, 6, died in the shooting in 2012, told the New York Times that he felt defeated. "I guess it's something in society we know will happen again, over and over."
Watching the coverage was "almost like an instant replay of Sandy Hook," he said.
Read our full report below.
The Uvalde Independent School District has confirmed that school will be canceled for the rest of the school year for students and school counselors will be available at all campuses to provide support.
In a statement the school district said:
Our community has experienced a terrible tragedy. We must come together to console one another and respect the privacy of the families. Please keep all families in your prayers.

School has been canceled for the rest of the school year for our students. This includes all extra-curricular activities for Wednesday and Thursday. The Graduation Ceremony will be addressed at a later time.

Uvalde CISD Staff are to report to their campuses tomorrow. School counselors will be available at all campuses to provide counseling support. Surrounding community counselors will be available at the Civic Center tomorrow to assist the Robb students, parents and faculty with counseling support. This is a tragic time in our district, we will come together to begin the healing process."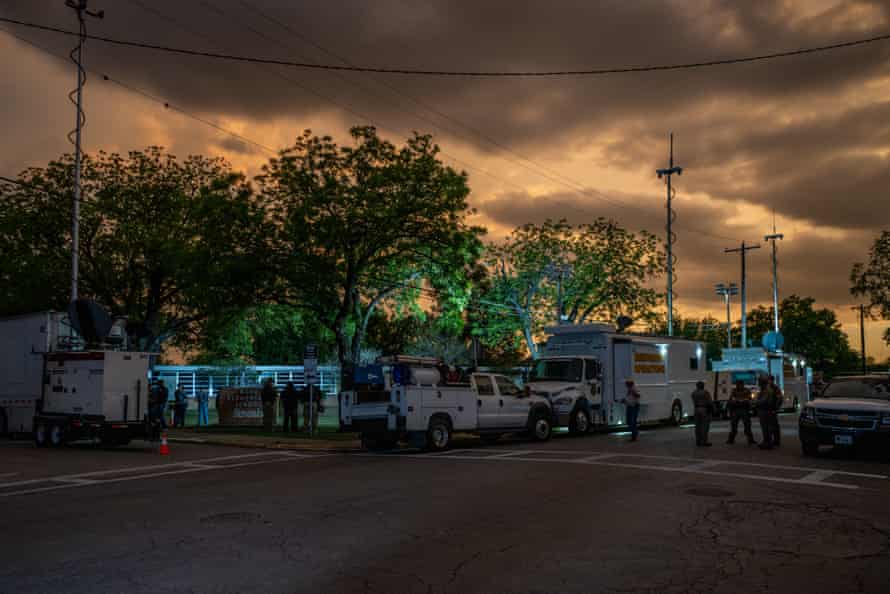 Relatives are turning to social media and waiting in a desperate attempt to find their missing children.
Adolfo Cruz, a 69-year-old air conditioning repairman, was still outside Robb elementary school on Tuesday night as the sun set, waiting for word on his 10-year-old great-granddaughter, Elijah Cruz Torres, whose whereabouts remained unknown to family.
Cruz drove to the scene after receiving a tearful and terrifying call from his daughter shortly after the first reports that an 18-year-old gunman had opened fire.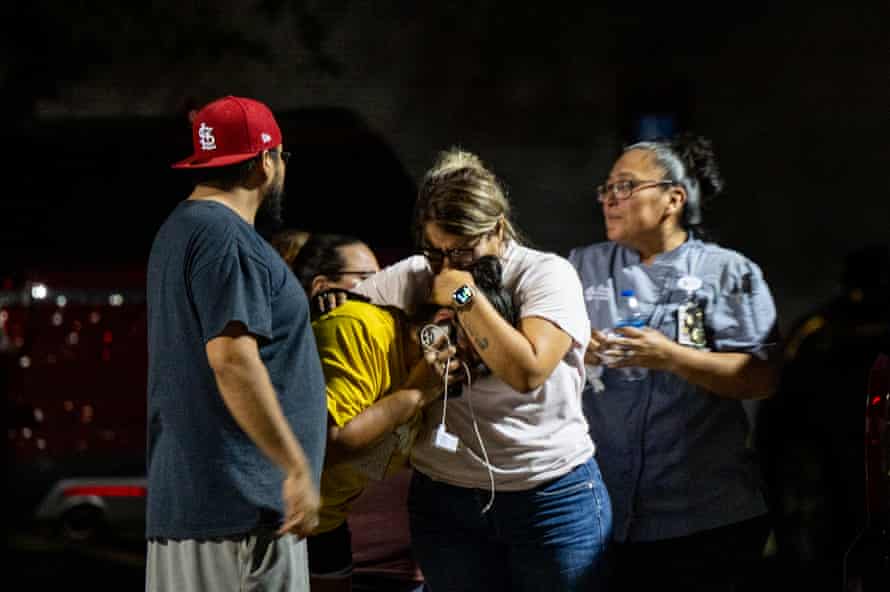 While he waited outside the school Tuesday night, his family was at the hospital and civic center waiting for any potential word on her condition.
Cruz called the waiting the heaviest moment of his life.
"I hope she is alive," Cruz told the Associated Press. "They are waiting for an update."
"It's a shock for me. I also feel for all the other families. This is a small community. Uvalde has always been real friendly. People are real friendly," he added.
You can read our story on Steve Kerr's speech on gun violence here.
Kerr addressed the Senate minority leader, Mitch McConnell, in particular. "I ask you, Mitch McConnell, I ask all of you senators who refuse to do anything about the violence and school shootings and supermarket shootings. I ask you: are you going to put your own desire for power ahead of the lives of our children and our elderly and our churchgoers? Because that's what it looks like. It's what we do every week."
As inquiries continue, Texas state senator Roland Gutierrez said the suspect – identified by the governor as Salvador Ramos – had hinted on social media that an attack could be coming, noting that "he suggested the kids should watch out".
NBA coach Steve Kerr gave an emotional pre-game press conference which he devoted to the events in Texas. He singled out politicians for failing to act on gun control in order to hold on to power and noted the recent shooting in Buffalo.
The grandmother of the suspected gunman is in a critical condition in hospital, Sergeant Erick Estrada has told CNN's Don Lemon. Tuesday's bloodshed began when the suspect shot his grandmother before going to the school, said Chris Olivarez, Texas Department of Public Safety officer, on Fox News.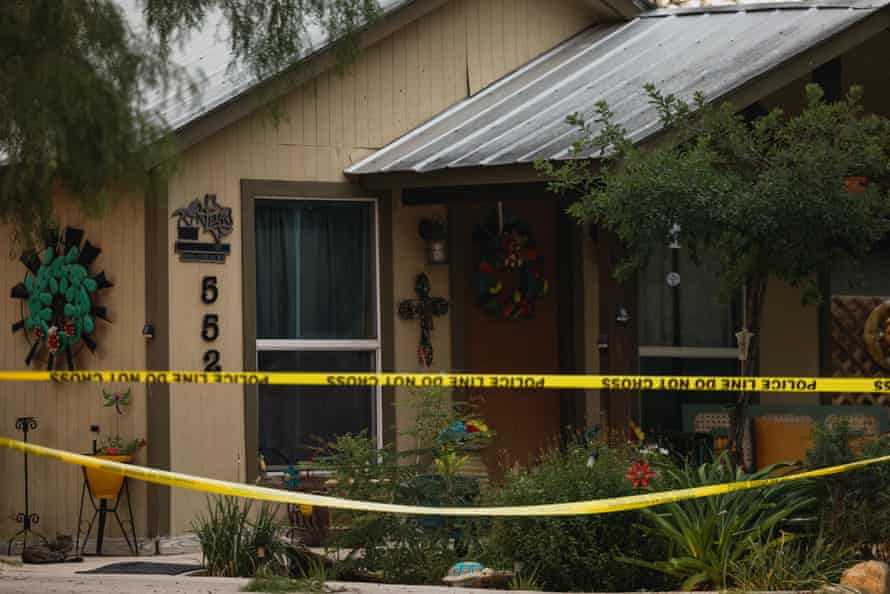 The latest information on the death toll was provided by Travis Considine, a spokesman for the Texas Department of Public Safety. The toll – 19 children and two adults – does not include the gunman.
Considine did not make clear if the toll included the attacker's grandmother, who officials said was shot before the school attack.
Authorities are now saying the victim toll now stands at 19 children and two adults, the Associated Press is reporting.
We will have more detail shortly.
The US Justice Department has released a statement this evening, describing the attack as an act of "unspeakable violence". Attorney general Merrick B Garland said:
Today, another mass shooting has taken the lives of innocent victims, including elementary school children and their teacher. This act of unspeakable violence has devastated an entire community and shaken our country.

FBI and ATF agents have responded to the scene, and the Justice Department is committed to providing our full support to our law enforcement partners on the ground in Texas and to the Uvalde community.

We join our fellow Americans in mourning this terrible loss and in their resolve to end this senseless violence."
Eva Mireles' aunt, Lydia Martinez Delgado, has also spoken with KSAT-TV, the local ABC News affiliate in the San Antonio area, and issued the following statement:
My niece, Eva Mireles, approximately 17 yr teacher for UCISD along with another teacher and 18 children lost her lives to a senseless tragic shooting.

I'm furious that these shooting continue, these children are innocent, rifles should not be easily available to all. This is a my hometown a small community of less then 20,000.

I never imagined this would happen to especially to loved ones. not all the facts have been released yet all we can do is pray hard for our country, state, schools and especially the families of all."