Sunak confirms windfall tax U-turn – while calling it 'temporary targeted energy profits levy'
Sunak says households are being hit hard now.
The government will provide significant support, he says.
As it supports people more, it needs to think of the fairest way to fund that.
The oil and gas sector is making extraordinary profits, not because of extra risk taking or efficiency, but because of surging energy prices. So he is sympathetic to the case of taxing those profits fairly.
Labour MPs are jeering loudly. Dame Eleanor Laing, the deputy Speaker, asks for "quieter banter".
Sunak says there is a middle way. He will impose a tax, but with an incentive for firms to invest.
The new measure will be the "temporary targeted energy profits levy", he says.
This euphemism for windfall tax generates loud laughter.
It will be set at 25%, and temporary, he says. He says a sunset clause will be in the bill.
And firms that invest will get tax relief on 90% of their investments.
UPDATE: Sunak said:
Like previous governments, including Conservative ones, we will introduce a temporary targeted energy profits levy, but we have built into the new levy … a new investment allowance similar to the super-deduction that means companies will have a new and significant incentive to reinvest their profits.

The new levy will be charged on profits of oil and gas companies at a rate of 25%.

It will be temporary and when oil and gas prices return to historically more normal levels the levy will be phased out.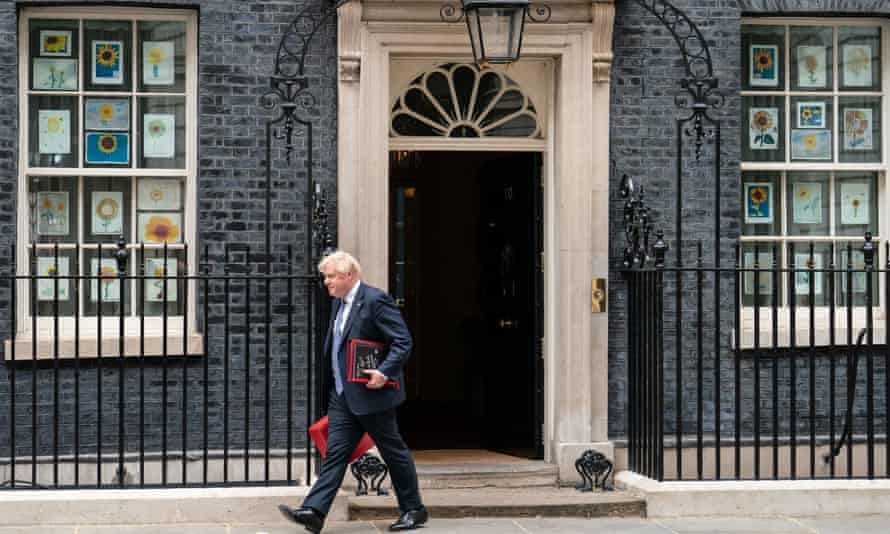 My colleague Polly Toynbee has written a column on Rishi Sunak's windfall tax U-turn. She says, if it took Partygate to produce this, more parties are needed. Here is an excerpt.
This help comes better late than never, arriving just as the Institute for Fiscal Studies finds inequality taking off again, with the top 1% roaring away, while the poorest people face the highest rate of inflation, which could hit 14% by October. But this is a humiliating U-turn for a government that has made cutting benefits time and again its signature theme.

This climbdown only comes now as its polling and focus groups show most people, including many Tory voters, are not as flint-hearted as the cabinet's ideologues. Nor do voters blame food bank-users for lack of cooking skills. The tide is turning, as the British Social Attitudes survey is showing, when so many people can see that working hard on low pay doesn't keep a family afloat.

Labour's spirits are high. The government may "move on" from Partygate, but the stench will follow them, just as John Major's government couldn't shake off "sleaze". Two imminent byelections will reveal how far Labour still needs to travel. But Rachel Reeves ended her reply today to rousing cheers from Labour benches when she called the benches opposite: "Out of ideas, out of touch and out of time … We lead, they follow."
And here is the full article.
No 10 spokesperson apologises for misleading media on lockdown parties
Boris Johnson's official spokesperson has formally apologised for misleading the media in repeatedly denying any parties took place inside Downing Street during lockdown, while insisting this was entirely inadvertent, my colleague Peter Walker reports.
As Peter reports, there will also be no more "wine time Fridays" in the No 10 press office. Downing Street now has a formal policy of alcohol not being allowed except for certain circumstances such as official receptions, the spokesperson told the briefing.
In an interview with Sky News's Lucy Frazer, a Treasury minister has just confirmed that the government will have to raise borrowing to fund the package announced by Rishi Sunak today. Although he is introducing a windfall tax on energy companies, that is only expected to raise £5bn of the £15bn needed.
Asked how the government could afford to cut taxes if it was also having to borrow more, Frazer said the key thing was to promote growth.
Back to the £15bn cost of living support package, and here is some reaction to Rishi Sunak's announcement from welfare organisations.
From Paul Kissack, chief executive of the Joseph Rowntree Foundation, the poverty charity
For people living with worry and fear through this cost of living crisis, and especially for those going without essentials, today's statement will offer very welcome relief. It is right to target help at those on low incomes, who are least able to bear the shock of soaring energy bills.

We are pleased by the commitment to uprate benefits in line with inflation as usual, though it is still crucial that the government invests on an ongoing basis in ensuring that everyone can get through difficult times and afford the essentials.
From Sam Nadel, head of government relations at Oxfam
About time! It's right that fossil fuel companies making excess profits are being asked to contribute more at a time when so many families in the UK have run out of options and can't afford to pay the bills, with little left to cut back on.
From Dan Paskins, director of UK impact at Save the Children

Today's announcement is welcome and will provide much needed breathing space to many families struggling with the cost of living. It's a generous package, and the chancellor has clearly listened to the unacceptable conditions people have been facing.
From Vicki Nash, head of policy, campaigns and public affairs at Mind, the mental health charity
Today's announcement by the chancellor of the xchequer of financial assistance for households across the country is welcome, though we remain concerned that people on the lowest incomes will continue to struggle.

We are pleased to see the UK Government recognising the extra costs faced every day by disabled people through a £150 grant to those claiming disability benefits, as well as the decision to give a grant of £650 to 8 million households on the lowest incomes to support with rising living costs. It is also reassuring to hear the Government committing themselves to raising all benefits in line with inflation next year.
From Azmina Siddique, policy and impact manager at the Children's Society
The money for households announced today will undoubtedly make a positive impact and ease some of the burden for those who are being hardest hit by energy price shocks. Shockingly, when the chancellor listed the 'most vulnerable', children didn't make the cut.

There was an opportunity here to provide targeted support to families with children – a third of whom were already in poverty before the cost of living crisis. Expanding free school meals to all children whose parents are on universal credit or a £10 increase to child benefit could have made a real difference.
House tells the police and crime committee that he has responded to the letter from Sadiq Khan, the London mayor, asking for an explanation as to why Boris Johnson received just one fine.
He says the letter sets out what he told the committee earlier – that various factors were taken into account when deciding who would be fined. It will be published on the Met's website, he says.
And that's all the questioning on Partygate. House is now being asked about other policing matters.
Caroline Pidgeon (Lib Dem) is asking questions now.
Q: Were there any people who refused to respond to your questionnaires?
House says that the "vast majority" of people returned their questionnaires. And he says the "vast majority" paid their fines.
If people did not return a questionnaire, that did not stop the Met investigating them, he says.
Acting Met commissioner says is confident that Johnson was not tipped off weeks ago by police that he would get just one fine
Sir Stephen House, the acting commissioner of the Metropolitan police, is giving evidence to the London assembly's police and crime committee. The first questions have been about Partygate, and there is a live feed here.
Asked to explain why Boris Johnson was not fined for attending the Lee Cain leaving do, where he was pictured drinking, House would not give a specific answer. But he said that a variety of factors were taken into account before decisions to issue fines, including how long people spent at an event, and whether or not it was work related.
Asked if the CPS has been consulted about decisions to issue fines, he said they had been asked about general points of law – but not specific cases.
Asked why the Sunday Times reported several weeks ago that Johnson was telling friends he was only going to get one fine, House said he was confident that Johnson had not been given that assurance by the police. He replied:
I'm very confident that no assurance were given to anyone who was subject of any investigation in relation to Operation Hillman [the Partygate inquiry].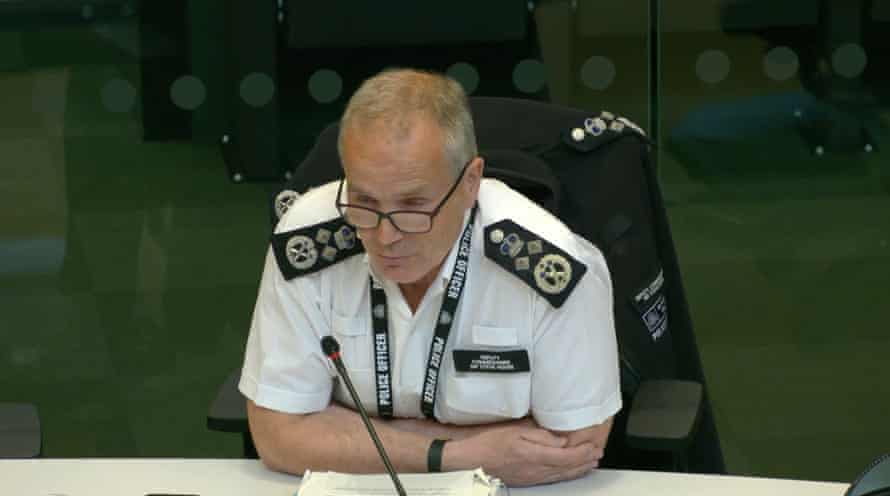 The TUC has described today's announcement from Rishi Sunak as "badly needed", but criticised the government for not having a long-term plan to raise living standards. In a statement, Frances O'Grady, the TUC general secretary, said:
The chancellor should have acted far sooner after his inadequate spring statement. His dither and delay has caused unnecessary hardship and worry for millions. While today's intervention is badly needed, we should have never been here in the first place …

With energy bills rising 23 times faster than wages we urgently need to get pay packets rising and to pay universal credit at a permanently higher rate – not just a one-off boost. That's the best way to protect livelihoods and to support the economy.
In his statement Rishi Sunak stressed that his windfall tax would be temporary. But the CBI is criticising it on the grounds that it could be open-ended. (See 1.50pm)
How can they both be right? In his briefing note, the Treasury says that although the intention is for the tax to be temporary, it could last three and a half years.
The energy profits levy will apply to profits arising on or after 26 May 2022. Companies who have an accounting period that straddles that date will be required to apportion their profits. It is temporary and will be phased out when oil and gas prices return to historically more normal levels. The legislation will also include a sunset clause, which will remove the tax after 31 December 2025.