Theresa Dickenson, the senior responsible officer for the 2021 Census and Deputy statistician at the Australian Bureau of Statistics, has talked about some more of the insights from the census data:
Australia is undergoing a generational shift. While Australia is an ageing country, the 2021 Census has seen the number of Millennials, those born from 1981-1996, catch up to the baby Boomers. The baby boomers and Millennials each have over 5.4m people. The number of Millennials is increasing through migration, while the number of baby boomers is decreasing.

The census highlights a variety of differences between baby boomers and Millennials, including their propensity to volunteer, religious affiliation and needs for assistance of tasks with daily living.
Dr David Gruen, chief statistician at the Australian Bureau of Statistics, has been speaking at a media event officially launching the census. He's noted some of the interesting shifts in population movements we're seeing in the data:
The 2021 Census provides a unique snapshot of Australia and impacts of Covid-19. The 2021 Census counted 2 million more people at home on Census night than in 2016, with half a million fewer of us travelling overseas and also fewer people away from home within Australia.

In terms of people moving in the other direction – that is, into Australia – these were just over 60,000 international visitors during the Census, far less than the 300,000 we counted visiting in 2016. Areas like the Gold Coast saw the impact of international travel restrictions with a significant drop in people at hotels and motels.
Charts! Josh Nicholas, one of Guardian's data journalists, has been making some pretty pictures out of the census data. Here's one, on population growth by state:
Bees. They're having a hard time. If you were plugged into the news machine yesterday you would have heard that varroa mite, a major honeybee parasite, has been found at the Port of Newcastle.
It's in pretty much every other country that has honeybees but hasn't established itself in Australia before – and it's bad news for bees. So the government is trying to eradicate it.
My colleague Donna Lu has written this great explainer on the mite and what it might (mite) mean for Australia's bees.
Some images are coming through on the wires from the Blockade Australia protests this morning.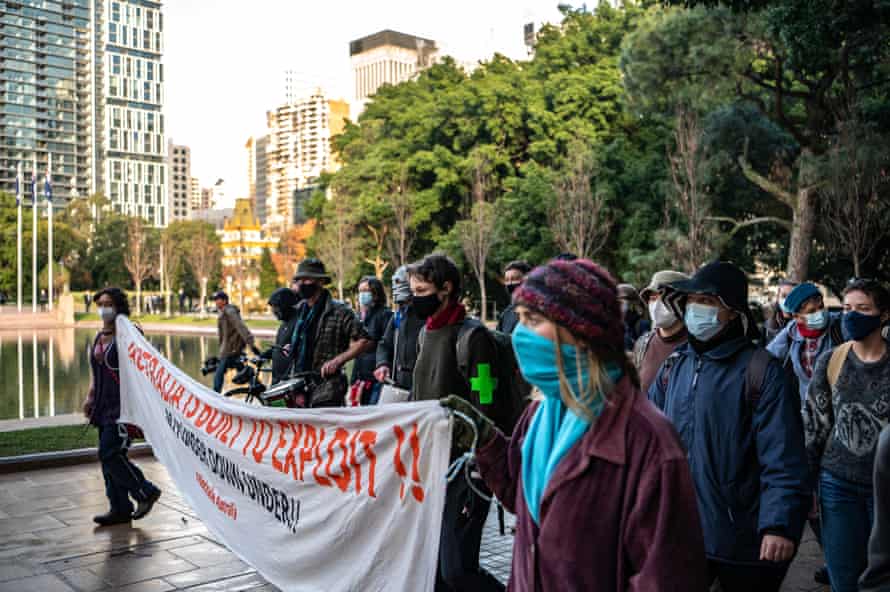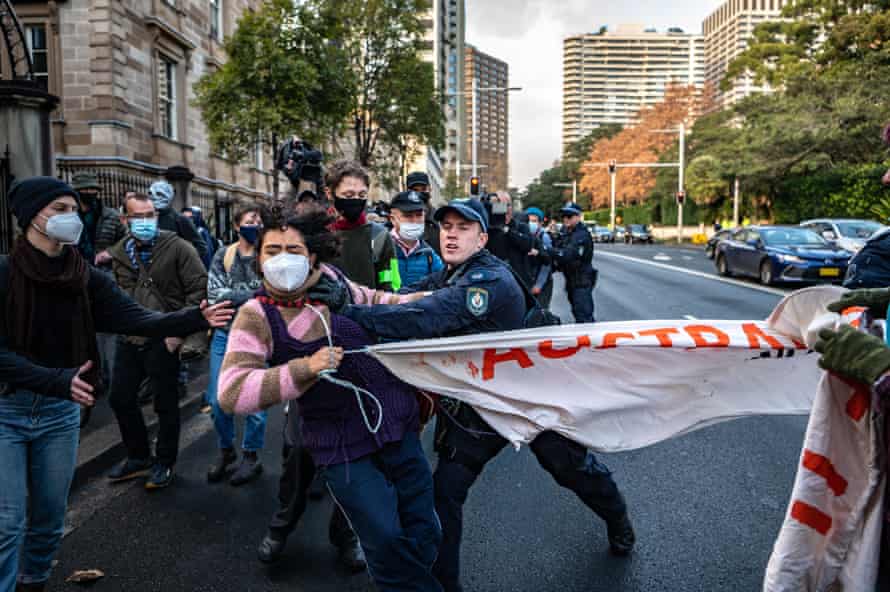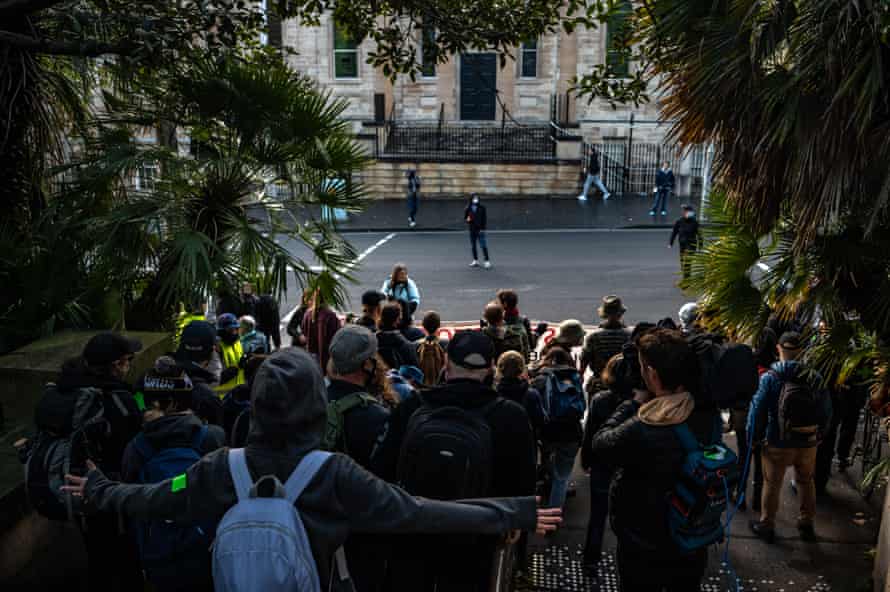 Albanese has 'constructive discussion' with Solomon Islands PM
Anthony Albanese says his first conversation since becoming prime minister with Solomon Islands counterpart Manasseh Sogavare has been "very constructive", ahead of the NATO Summit in Spain, AAP reports.
Speaking from the tarmac after arriving in Madrid overnight, Albanese confirmed the two had spoken amid escalating regional tensions in the Pacific:
We talked about the Pacific Island Forum that will be coming up and the important agreement that has been made, led by the Fijian prime minister, to make sure the Pacific Island Forum can remain united and strong.

That's an important breakthrough. Prime Minister Sogavare reconfirmed his position that Australia remains the security partner of choice.
Albanese says he and Sogavare look forward to holding a meeting together at the forum, which will be held in Fiji mid-July.
China and the Solomon Islands have forged a security pact, which has Pacific nations concerned about Beijing's expanding influence.
Some footage here that appears to be from the Blockade Australia protest in Sydney this morning. There are more clips in the Twitter thread.
Australia's peak renewable industry groups say paying coal and gas plants to remain in the electricity market as back-up capacity would be "a retrograde step", and a lengthy debate about changes could stall much-needed new investment.
Kane Thornton, the chief executive of the Clean Energy Council, said his organisation had "real concerns" about the proposal by the Energy Security Board for a so-called capacity mechanism to be introduced after 2025. Such a scheme would charge consumers for idle generation or supply to reduce risks of potential power shortages, as experienced across eastern Australia this month.
Read the full story here: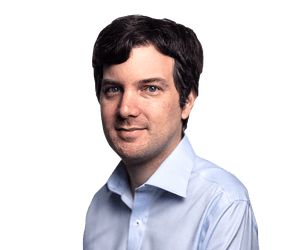 Daniel Hurst
More on Pat Conroy's appearance at the Pacific event: he says the Albanese government will reintroduce a requirement that 80% of Australia's development programmes have a gender equity goal as part of the design.
Answering a question about the issue as he addressed the Pacific Update event in Fiji by video link, Conroy acknowledges the gendered natures of challenges the region faces. For example, he says, studies have shown natural disasters have a greater impact on women and girls:
We're going to have a very strong focus in our development programmes around gender equality, and that's why I announced that we would be reintroducing the requirement that 80% of our development programmes have a gender equity goal as part of the design.
Conroy also talks about the Pacific labour mobility scheme and the fact that "increasing protection for workers is very important for every worker" but says women are more likely to face exploitation in terms of the power balance in workplaces, "so increasing protection for workers is really important."
Conroy goes on to promise "enhanced understanding and mutual respect" with the Pacific:
I'm not just here to tell you what the Australian government plans to do to build a stronger and more resilient Pacific family. I also want to hear directly from the Pacific on how we can work together.

I have been meeting Pacific leaders and I look forward to visiting your country [Fiji] soon to continue listening and learning with you, including at next month's Pacific Islands Forum. This enhanced understanding and mutual respect will help Australia to truly deepen its ties and its commitment to the Pacific family in the years ahead.
Now I'm back to looking up the formal definition of "superspreader".
New Pacific minister 'here to listen' after region 'frustrated' by former government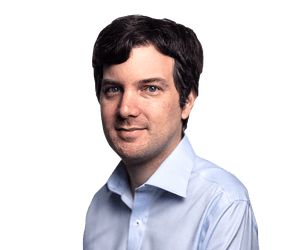 Daniel Hurst
The new minister for international development and the Pacific, Pat Conroy, has told Pacific countries that Australia "is here to listen" and "will be a leader, not a laggard" on climate change.
Conroy has also acknowledged Pacific island countries had been "frustrated by the former Australian government's approach to climate change" and says being family means respecting and listening to the concerns of each member.
He is addressing an event – Pacific Update – co-hosted by the University of the South Pacific in Fiji and the Australian National University's Development Policy Centre.
Joining the event by video link, Conroy said:
We meet at a time when the complexity of issues we face is growing. In particular the triple challenges of climate, Covid and strategic contest will test us in new ways.

I will touch on some of those challenges today, but my central message is this: Australia is here to listen. We are here to work together with our Pacific family and we are here to make a difference. All the nations of the world face significant global challenges but we don't have to face them alone.
Conroy acknowledged for the Pacific, climate change is not an abstract threat but an existential one, an argument the foreign affairs minister, Penny Wong, has made during her travels to the region too.
He assured his audience that the new Australian government "will join with our Pacific family in constructive ways" to deal with climate change:
I know that Pacific family was frustrated by the former Australian government's approach to climate change in recent years. A new government has been elected and we are absolutely committed to acting on climate change. A true family respects each member, listens to the concerns of family members and acts upon those concerns.
He said the former Australian government "disrespected" Pacific countries by not taking adequate action on climate change.
I mentioned climate change first because the Australian government knows that the issue of security is inseparable from the issue of climate change.
Conroy then turned his attention to strategic challenges. He said Australia deeply respects regional institutions. He cited Labor's election promises on Pacific security, including stepping maritime surveillance to tackle illegal, unreported and unregulated fishing, and better coordinating defence engagement with the region.
Victoria records 11 deaths from Covid-19 with 468 people in hospital
There were 7,758 new cases recorded and 35 people in intensive care over the past 24 hours.
NSW records 40 deaths from Covid-19 with 1,540 people in hospital
There were 8,623 cases recorded over the past 24 hours, and 49 people are in intensive care.
On those deaths, NSW Health said:
The 40 deaths notified to NSW Health in the 24 hours to 4pm on Monday includes 26 deaths notified through the NSW Registry of Births Deaths and Marriages.

COVID-19 related deaths are notified to NSW Health from a range of sources and not all deaths reported by NSW Health occurred in the week in which they are reported as there is sometimes a delay between a death occurring and it being notified to NSW Health.
1m vacant dwellings in a country struggling with chronic housing insecurity and a rental crisis. Good times.
This is unconfirmed as yet but likely to be from today's Blockade Australia action in Sydney.
The climate activist group released a statement about half an hour ago, confirming they had continued their actions today.