In an interview with the NBC network in the US, Ukraine's President Volodymyr Zelenskiy has compared the scenes he saw at Bucha on the outskirts of Kyiv to a war movie, and said that witnessing the aftermath of the atrocities that Ukraine alleges took place there has changed the way he views people. He said:
With what you saw in Bucha, there was a terrifying feeling and understanding that it looked like something from a movie, a violent war movie about the effects of war. But in that moment, you realise that this is no movie, it's not from a book, it's not a biopic, it's nothing like that. It has nothing in common, it's reality. And reality is more terrifying than the film I told you about.

There is less blood than in a Tarantino movie, and less shooting than with Spielberg. It was just so quiet, everything was destroyed, dead people, destroyed army equipment. There was this sense of death.

And you understand that reality is scarier than any movie and the thing that changed me or surprised me was before I didn't think that people were capable of this, that people are capable of such atrocities.

When they found people in the bottom of wells, hands bound, raped, and murdered – they'd done everything to them. I just didn't know that this could be done by people who, 30 years previously, we had lived together in the Soviet Union, in one country. I just never had thought that humanity could be capable of this, and this changes how you look at people.
Moscow has repeatedly denied that its forces target civilians, and has termed reports of war crimes committed by Russian soldiers occupying Ukraine "provocations".
Ukraine's President Volodymyr Zelenskiy has posted to his Telegram channel a clip form an interview with US television network NBC. He accompanies the clip with these words:
The war will end with the victory of Ukraine. No matter how difficult it is, we must oust the occupiers from our land.
Zelenskiy's social media channel states that during the interview, part of the Festival of Ideas of the Aspen Institute, he spoke about the struggle for independence, the importance of supporting the civilised world, the current situation on the battlefield and his decision-making process. Opening the interview, Zelenskiy said:
For me, it was always very important for Ukraine not to become a 'buffer zone.' The Ukrainian people chose the European way, the relevant values. These values correspond in Europe, the United States, and Ukraine. And we want to be a part of these values.

Yet, once upon a time there was the Soviet Union, we were part of this state. We were a part of this Soviet Union. Our parents were born there and I was born there, in those times.

However, today, we want to be independent.

Even before the Soviet Union, Ukrainians wanted to have their own land, their own traditions, and I believe this is normal if one respects Ukraine's choice of sovereignty. At last, we have independence, and you see how hard we are fighting for it and how we are fighting for these values.
Nato's Stoltenberg: 'allies ready to make ratification process as quick as possible' for Sweden and Finland
Nato secretary general Jens Stoltenberg has said he expected a swift ratification of Sweden and Finland's membership of the military alliance.
"We will make a decision at the summit to invite Sweden and Finland to become members, that's unprecedented quick," he told reporters on the second day of the Nato summit in Madrid. Both countries applied for membership of the alliance in mid-May.
Reuters reports he said: "After invitation, we need a ratification process in 30 parliaments. That always takes some time but I expect also that to go rather quickly because allies are ready to try to make that ratification process happen as quickly as possible."
The UK's defence secretary Ben Wallace has been interviewed from Madrid about Nato defence spending, and the UK's commitment to defence spending. He said that Russia's actions in Ukraine had changed the mid-term focus. He told viewers of Sky News:
As defence secretary my most important target is remaining above 2%, if not greater, of GDP, which is the main Nato benchmark. And you know, I think that's really important that we continue to commit to that, if not greater.

The question is really the next spending period, the middle of the decade. And we were prepared to take certain vulnerabilities on board in the middle of the decade, as we got rid of some equipment and re-equipped new. I think the invasion of Russia into Ukraine has changed that. And that's why I think the discussion is so important for the sort of middle-of-the-decade funding.
Fighting continues in all settlements of the Lysychansk community, according to Serhai Haidai, Ukraine's governor of Luhansk. His daily briefing on Telegram states that while Ukrainian forces are out-numbered they continue to put up a defence, saying:
Fighting continues in all settlements of the Lysychansk community. Orcs [slang for pro-Russian forces] try to break through our defences, but they fail, then take the most favourite route – total destruction. The shelling continues constantly, the destruction is catastrophic.

Only in Lysychansk did the Russians throw two battalion-tactical groups of heavy equipment. Orcs have a quantitative advantage in both personnel and equipment, but in the skill of fighting – our defenders will win.

The Lysychansk-Bakhmut highway is not surrounded.
The claims have not been independently verified.
Roman Starovoyt, governor of Kursk in Russia, has posted pictures this morning of what he claims is a drone shot down over Russia overnight. He posted to Telegram:
I am publishing photos of the drone we shot down last night. The Ukrainian "Swift" Tu-141, produced back in Soviet times, entered our airspace. The investigative committee is working at the site of the discovery of the wreckage.
More on the attack on Mykolaiv, from Reuters:
At least three people were killed and five wounded by a Russian missile strike on a residential building in Ukraine's southern city of Mykolaiv on Wednesday, said local authorities who have launched a rescue effort for survivors.
Mayor Oleksandr Senkevych said eight missiles had hit the city, and urged residents to evacuate. He said the building appeared to have been hit by a Russian X-55 cruise missile.
Photographs from the scene showed smoke billowing from a four-storey building with its upper floor partly destroyed.
Russia's state-owned news agency Tass is reporting on the comments of Russia's representative to the UN security council:
Russia's special military operation in Ukraine will continue until Ukraine stops shelling Donbas and until no threat comes from its territory, Russian first deputy permanent representative to the United Nations Dmitry Polyansky has said.
"We started a special military operation in order to put an end to bombardments of Donbas by Ukraine, and also to make sure that this country (that western states helped to turn into an anti-Russia) and its nationalist leadership stop posing a threat to both Russia and people living in Ukraine's southern and south-eastern areas. The special operation will continue until these goals are achieved," he told the UN security council session on Tuesday.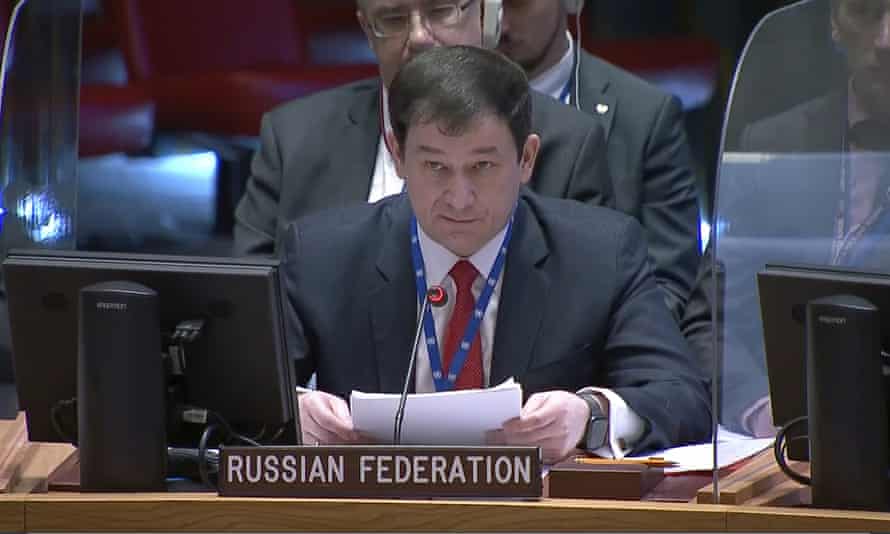 "By supplying your weapons, you only prolong the agony of the criminal Kiev regime that is ready to sacrifice its own population. The sooner you realize this, the sooner Ukrainian leadership comes to a negotiations table with a realistic position rather than pompous slogans and phantom pains," the Russian diplomat added.
More on the attack in Mykolaiv, in Ukraine's south, near the Black Sea:
Reuters is also reporting that further east, in Lysychansk in the Luhansk region, a key battleground in Russia's assault on the industrial heartland of Donbas, the governor reported increased military action.
The situation in Lysychansk resembles that in its twin city Sievierodonetsk more than a month ago when the Russians started taking building after building, Luhansk governor Serhiy Gaidai said on Wednesday. Sievierodonetsk fell to Russia on Saturday.
"The situation in Lysychansk is very difficult," Gaidai said earlier on television.
"The Russians are using every weapon available to them … and without distinguishing whether targets are military or not – schools, kindergartens, cultural institutions," he said.
"Everything is being destroyed. This is a scorched-earth policy."
The Ukraine war will take centre stage at a Nato summit in Madrid on Wednesday, while Finland and Sweden will be formally invited to join the alliance after Turkey dropped its opposition.
Four months after Russia invaded Ukraine, upending the European security landscape, more than 40 leaders will gather for what the Nato secretary general, Jens Stoltenberg, called a "pivotal summit" for the alliance's future.
The Ukrainian president, Volodymyr Zelenskiy, has been invited to participate and will speak twice via videolink, as Kyiv pushes for accelerated weapons deliveries from its allies.
Nato countries, which have already committed billions of dollars in military assistance to Kyiv, will agree to a "comprehensive assistance package to Ukraine, to help them uphold the right for self-defence" said Stoltenberg.
"It is extremely important that we are ready to continue to provide support because Ukraine now faces brutality which we haven't seen in Europe since the second world war."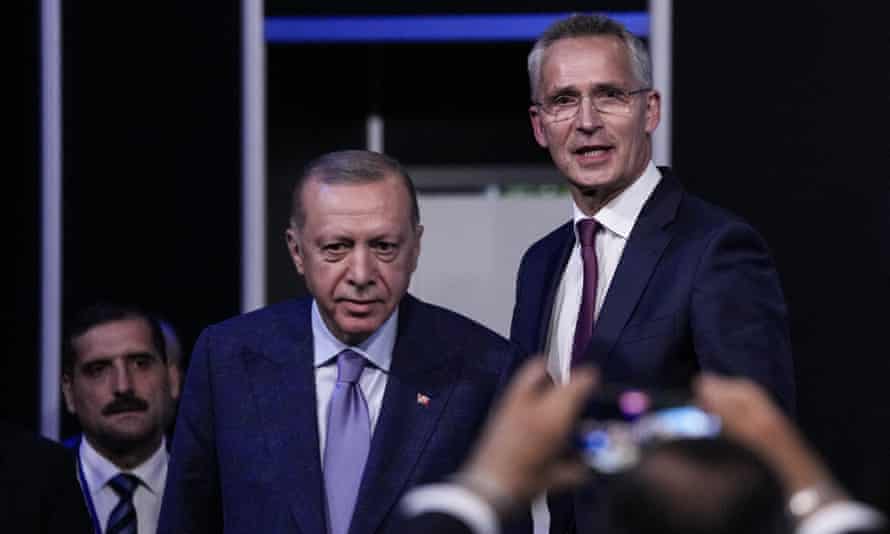 At the end of a G7 summit in Germany, French president Emmanuel Macron urged Nato allies to show they were united.
"The message that should come out of Madrid is a message of unity and strength for member countries, as well as for those that wish to join and whose applications we are supporting," he said.
British prime minister Boris Johnson will urge his Nato allies to boost their defence spending in response to Russia's invasion "to restore deterrence and ensure defence in the decade ahead", his office said.
Beyond Ukraine, the summit will see a revamp of Nato's strategic concept – which outlines its main security tasks, but has not been revised since 2010 – to mention challenges posed by China for the first time.
Finland and Sweden will be invited to join the alliance at the summit after Turkish president Recep Tayyip Erdoğan on Tuesday lifted his opposition following crunch talks with the leaders of the two Nordic countries in Madrid.
Erdoğan had stubbornly refused to back the applications from the Nordic pair – lodged in response to Russia's war on Ukraine – despite pressure for a change of course from his Nato allies.
But Erdoğan's office said it had agreed to support them as Ankara had "got what it wanted".
Ankara had accused Finland, and especially Sweden, of offering a safe haven to Kurdish militants who have been waging decades-long insurgency against the Turkish state.
US president Joe Biden congratulated Turkey, Finland and Sweden on reaching an agreement.
"As we begin this historic Nato summit in Madrid, our alliance is stronger, more united and more resolute than ever," he said in a statement.
But it will still take months for Finland and Sweden to officially join Nato, as their entry into the alliance needs to be ratified by the parliaments of the 30 member states.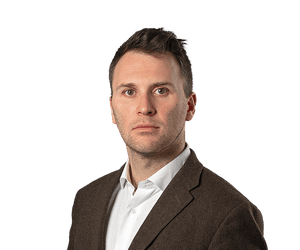 Andrew Roth
The horror that unfolded when a Russian missile struck a shopping mall in the Ukrainian city of Kremenchuk was shown around the world. But if you were watching Russian television that day, you would probably have seen nothing about it.
The Russian media blackout on the attack, which left at least 18 people dead according to the Ukrainian government, is part of a playbook on how similar attacks have been handled as the Kremlin tries to present itself as a liberating force that does not harm civilians.
And with images of charred bodies emerging in the foreign press, Russian officials began to declare the strike a "Bucha-like provocation", disregarding evidence of war crimes amid growing international isolation.
Television, the most closely controlled sector of the Russian media, did not mention the strike in the main evening news broadcasts on Monday. Only when it was confirmed by the Russian defence ministry, which claimed without evidence that there had been ammunition stored in the shopping centre, did most Russian media begin coverage.
Reuters is reporting two people have been killed, and three wounded, by a Russian strike on a residential building in Mykolayiv in southern Ukraine on Wednesday, citing the region's governor Vitaly Kim.
Kim did not clarify whether it was a bomb or a missile strike, artillery or mortar shelling.
We will bring you more details as they emerge.

Nadeem Badshah
Boris Johnson has claimed that Vladimir Putin would not have invaded Ukraine if he was a woman and believes that the war is a "perfect example of toxic masculinity".
In an interview with German media following the G7 summit in Schloss Elmau, the prime minister cited the Russian president's gender as a contributory factor to the conflict.
Johnson told broadcaster ZDF: "If Putin was a woman, which he obviously isn't, if he were, I really don't think he would have embarked on a crazy, macho war of invasion and violence in the way that he has.
"If you want a perfect example of toxic masculinity, it's what he is doing in Ukraine."
I'm writing these words from Australia.
This, below, is… well… comprehensive: many of Australia's finest and most useful exports are included, including New Zealand-born actor Russell Crowe.
Dan Sabbagh has filed from Madrid on the Nato summit:
A last minute agreement has been reached between Turkey, Finland and Sweden to allow the two Nordic countries to become Nato members on the eve of the military alliance's summit in Madrid.
But at the United Nations Security Council, China has had this to say about Nato's history… saying Russia's aggression in Ukraine has its origins in Nato's eastward expansion.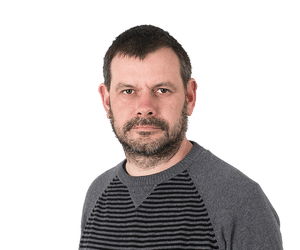 Martin Belam
Shocking CCTV footage has emerged of people spending a summer's day at a peaceful park suddenly running for their lives after a Russian cruise missile strike on a nearby mall sent debris flying into the air.
The CCTV images were taken from a park opposite the shopping centre in Kremenchuk that was hit on Monday, in an attack claiming at least 18 lives and leading to a prolonged search in the rubble for survivors and bodies.
Hello, welcome to today's ongoing coverage of Russia's war on Ukraine. It's just gone 7am in the Ukrainian capital, Kyiv, and here's a summary of the latest developments:
Ukraine's president Volodymyr Zelenskiy accused Russian leader Vladimir Putin Tuesday of becoming "a terrorist" leading a "terrorist state" and urged Russia's expulsion from the United Nations. In a virtual address to the UN security council, Zelenskiy urged the UN to establish an international tribunal to investigate "the actions of Russian occupiers on Ukrainian soil" and to hold the country accountable.
Zelenskiy said urgent action was needed "to make Russia stop the killing spree," warning that otherwise Russia's "terrorist activity" will spread to other countries, singling out the Baltic states and Poland.
The Ukraine president also called for the United Nations to visit the site of a missile strike on a shopping mall in the city of Kremenchuk. "I suggest the United Nations send either a special representative, or the secretary-general of the United Nations … so the UN could independently find out information and see that this indeed was a Russian missile strike," he said of Monday's attack which killed at least 18 people.
Rescuers continued to work through the devastation left behind by the strike in Kremenchuk, with dozens of people still missing.
The Russian army claimed Tuesday it had hit a nearby weapons depot with the explosion sparking the blaze at the shopping centre, which according to Moscow was "not operational" at the time.
All 15 Security Council members, including Russia, stood for a moment of silence after Zelenskiy asked them to "commemorate all the Ukrainians who have been killed in this war."
Russia's deputy UN ambassador Dmitry Polyanskiy told the council that Zelenskiy's appearance via video had undermined the authority of the body. "The UN security council should not be turned into a platform for a remote PR (public relations) campaign for president Zelenskiy in order to get more weapons from participants of the Nato Summit," Polyanskiy said.
During the Nato summit, Turkey, Finland and Sweden signed a trilateral memorandum, paving the way forward for the two Nordic countries to join the alliance. Jens Stoltenberg, Nato's secretary general, said on Tuesday evening: "I am pleased to announce that we now have an agreement that paves the way for Finland and Sweden to join Nato."
The agreement involves Finland and Sweden lifting their arms embargo, amending their laws on terrorism, supporting Turkey in its conflict with the Kurdistan Workers' party (YKK) and stop supporting the party's Syrian affiliate People's Protection Forces (YPG)
World leaders welcomed the trilateral agreement. US president Joe Biden described the deal as "a crucial step towards a Nato invite to Finland and Sweden, which will strengthen our alliance and bolster our collective security." Boris Johnson tweeted: "Fantastic news as we kick off the Nato Summit. Sweden and Finland's membership will make our brilliant alliance stronger and safer."
Ukrainian forces will try to hold the line against Russia in the east from the vantage point of the city of Lysychansk, buying time for the arrival of western weapons and the region's defenders to prepare fortifications, Luhansk province's governor said.
Russia again shelled Kharkiv, Ukraine's second largest city, hitting apartment buildings and a primary school, the regional governor said. The shelling killed five people and wounded 22 including children.
Russia-installed officials in Ukraine's Kherson region said their security forces had detained Kherson city mayor Ihor Kolykhayev on Tuesday after he refused to follow Moscow's orders, while a Kherson local official said the mayor was abducted, Reuters reported. "I can confirm that Kolykhayev was detained by the commandant's (military police) office," Ekaterina Gubareva, the Moscow-appointed deputy head of the Kherson region, said on the Telegram messaging app. The reports could not be immediately independently verified and there was no official confirmation from Ukrainian authorities.