Russia storing weapons in European nuclear plant – Ukrainian official
Russia is using Europe's largest nuclear power plant as a base to store weapons, including "missile systems", and shell surrounding areas in Ukraine, an official with Kyiv's nuclear agency said.
The president of the Ukrainian state nuclear agency, Energoatom, said on Friday that the situation at the Zaporizhzhia nuclear plant was "extremely tense", with up to 500 Russian soldiers controlling the plant, Agence France-Presse reports.
"The occupiers bring their machinery there, including missile systems, from which they already shell the other side of the River Dnipro and the territory of Nikopol," Pedro Kotin said in a televised interview.
The nuclear plant in south-western Ukraine has been under Russian control since the early weeks of Moscow's invasion, though it is still being operated by Ukrainian staff.
The most recent attack in the Dnipro region left three dead and 15 wounded, regional governor Valentin Reznichenko said on Telegram.
The threat of air raids across most of Ukraine was also raised after strikes were reported in areas far from the frontlines. President Volodymyr Zelenskiy said the Russian objective was to "cause maximum damage to Ukrainian cities".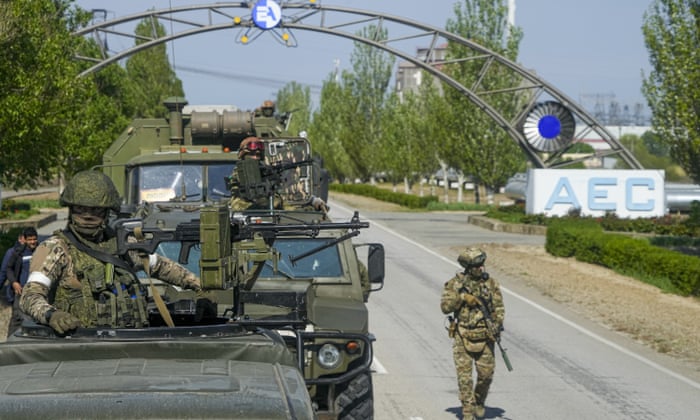 Key events:
Deputies in Ukraine's parliament have formed a new group in attempts to urge the Ukrainian parliament to approve a resolution that declares Russia's expulsion of Circassians in 1864 an act of genocide.
The war in Ukraine "concerns the West as a whole" but at the same time must not lead to "forgetting Africa's security" needs, France's armed forces minister Sebastien Lecornu said Saturday.
Agence France-Presse reports:
"We have a form of myopia in Europe and France, where the Ukraine war mobilises all our energy, and that is natural – it is a conflict that concerns the West as a whole," said Lecornu in Ivory Coast after a visit to Niger.

"Yet it should not lead to forgetting about news on security in Africa," he argued ahead of meeting with Ivorian President Alassane Ouattara.
Earlier, Lecornu had talks with Ivorian counterpart Tene Birahima Ouattara on African security, notably in the Sahel.
While hailing France's counter-terrorism efforts with Paris' partners in the region in recent years, he said Paris had now embarked on a "new agenda" with its main friends and allies in West Africa.
Earlier this year, Paris announced the withdrawal of its troops from Mali following the breakdown in relations with the ruling junta in the former French colony.
That ended a nearly 10-year deployment against jihadist groups that pose a growing threat in the region.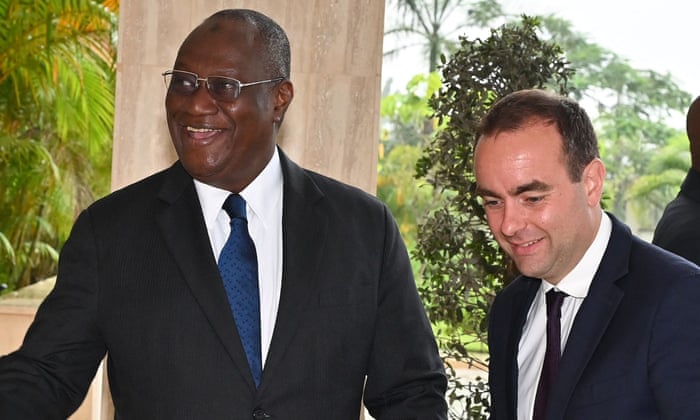 "No Russian missiles or artillery can break our unity," Ukrainian president Volodymyr Zelenskiy said in a statement on Saturday.
In an address on the anniversary of the Declaration of State Sovereignty of Ukraine, Zelenskiy added, "It should be equally obvious that it cannot be broken with lies or intimidation, fakes or conspiracy theories."
All bodies have been identified after the Vinnytsia missile strike, the region's governor announced.
According to Vinnytsia oblast governor Serhii Borzov, 68 people are currently hospitalized, 14 of them are in serious condition.
Serhii Morhunov, Vinnytsia's mayor said that the families of those killed and injured would received $1,700 and $850 in assistance, respectively.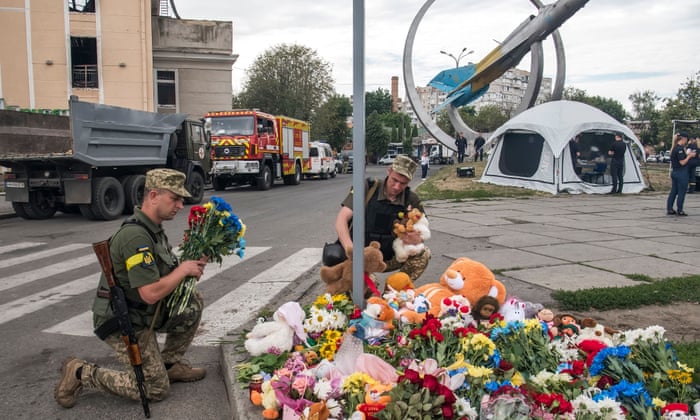 Rescue operations after Russian missiles struck the west central Ukrainian city of Vinnytsia have concluded, the Kyiv Independent reports.
23 people have been killed, 202 have been injured, one person is missing and three others have been rescued, according to Ukraine's state emergency service.
Additionally, the strikes, which hit the city center on July 14, destroyed 55 residential houses and 42 vehicles.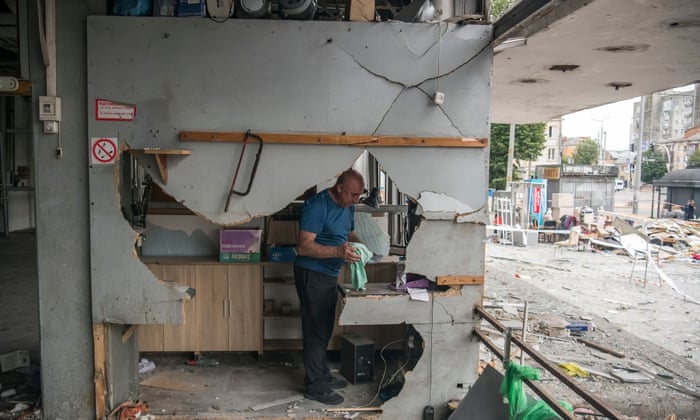 Russian forces are preparing for a new offensive, the Kyiv Independent reports.
According to Vadym Skibitsky, a representative of the intelligence directorate at Ukraine's defense ministry, Russian activity signal that "undoubtedly, preparations for the next stage of offensive actions are underway."
He also added that the threat of an invasion from Belarus is no longer as high as it previously was prior to the start of Russia's invasion in February.
Around 100 to 150 civilians were killed by Russian military strikes in Ukraine over the past two weeks, according to the Pentagon.
In a briefing on Friday, a senior US military official said: "And I think all told over the week … we're looking at between 100, 150, somewhere in there, civilian casualties, civilian deaths, this week in Ukraine as a result of Russian strikes.
The recent increase in civilian deaths comes as Russian and Ukrainian military forces remain in a fierce battle on the frontlines of Ukraine's eastern territories.
When asked whether the war had entered a stalemate, the official said: "It's probably too early to make a determination like that. I think, you know, again, in terms of where you are on the battlefield, I would – I have to believe that the HIMARS have had an effect. I don't know that that's – you know, we didn't think that would be a silver bullet, certainly."

He went on to add: "I think what you're seeing is … a matchup between bad morale and strong will."
Hi everyone, this is Maya Yang and I will be taking over the blog and bringing you the latest updates. Stay tuned.
On the Russian missiles hitting the city of Dnipro, which killed three people and wounded 15, a local woman who gave her name as Klavdia told Reuters: "When the blast wave hit, there were few shards because all my windows were taped up.
"I have a small injury on the left of my body but the people whose windows were not protected like this, there was a lot of blood, their injuries were horrible.
"I saw a small child all covered in blood. It was awful."
Russia said it had destroyed a factory in Dnipro making missile parts.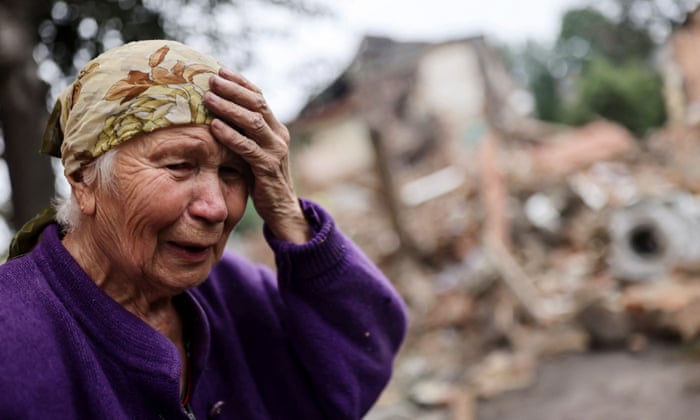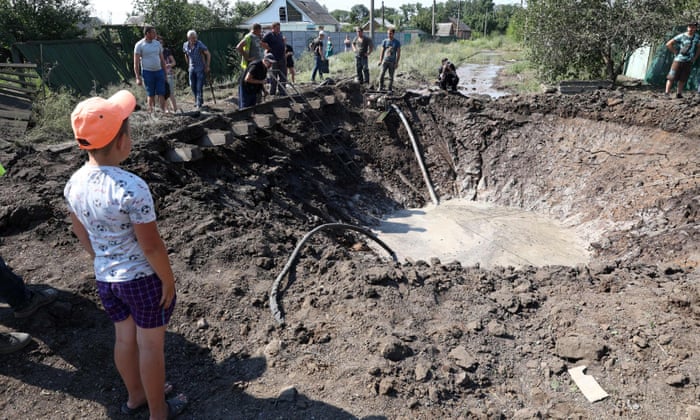 US treasury secretary, Janet Yellen, has said she had productive meetings with a number of countries on the sidelines of the G20 finance leaders meeting about a proposed price cap on Russian oil.
Yellen said her bilateral meetings and the overall G20 sessions in Indonesia focused on the human and economic cost of Russia's invasion of Ukraine, with the US and other countries "unequivocal in condemning their [Russia's] shameful actions".
Russia says it is engaged in a "special military operation" in Ukraine.
The US treasury department said Yellen met finance leaders from Saudi Arabia, Australia, South Africa, Turkey, and Singapore.
She also had dinner with Canadian finance minister, Chrystia Freeland, a treasury official said.
"On energy costs, I had productive bilateral meetings with over a half dozen of my counterparts where we discussed the merits of a price cap and how it can help us achieve our goals of denying Putin revenue for his war machine, while dampening energy costs," Yellen told reporters outside the meeting venue.
She said a price cap was one of "our most powerful tools to address the high prices people are facing in America and around the world".
Yellen said she also underscored the importance of taking action at the G20 to address the global food security crisis, Reuters reports.
Yellen met Saudi finance minister, Mohammed Al-Jadaan, Australian treasurer, Jim Chalmers, South African finance minister, Enoch Godongwana, the deputy prime minister of Singapore, Lawrence Wong, and the Turkish finance minister, Nureddin Nebati, the treasury said.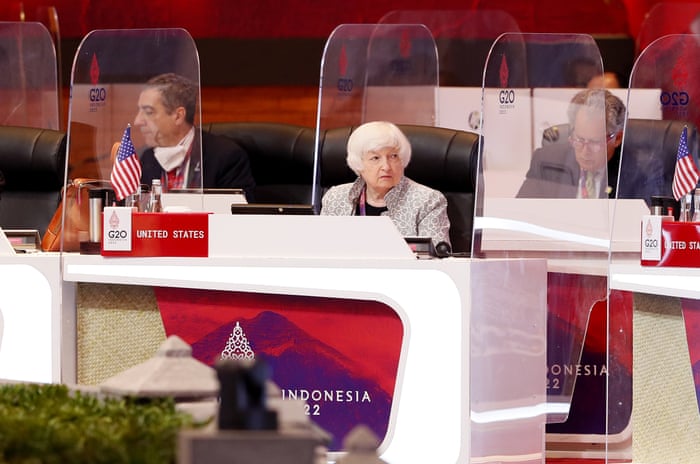 Joe Biden says US 'will not walk away' from Middle East
Speaking at a summit of Arab leaders, US president Joe Biden has said the United States "will not walk away" from the Middle East and let "China, Russia or Iran" fill a power vacuum in the region.
President Biden delivered his remarks at the Gulf Cooperation Council on the final leg of a four-day tour of the Middle East.
Biden's trip aimed to secure stability and a new axis of cooperation in light of growing concerns over Iran's leadership and Russian president Vladimir Putin. It also aimed to boost the global flow of oil to bring down rising gas prices.
A senior Biden administration official, who briefed reporters before the summit, said Moscow's efforts to acquire drones from Tehran show that Russia is "effectively making a bet on Iran".
Biden said:
We will not walk away and leave a vacuum to be filled by China, Russia or Iran.

We will seek to build on this moment with active, principled, American leadership.

Today, I'm proud to be able to say that the era of land wars in the region, wars that involved huge numbers of American forces, is not under way.
Biden announced a $1 bn US aid package to tackle a worsening hunger crisis in the region, and pressed his counterparts to ensure human rights are realised, and allow their citizens to speak openly.
"The future will be won by the countries that unleash the full potential of their populations," he said, adding that people should be allowed to "question and criticise leaders without fear of reprisal".
Crown prince Mohammed bin Salman, the de facto ruler of Saudi Arabia, convened the summit and hinted that the kingdom could put out more oil than it does currently, something Biden is hoping to see when an existing production deal among OPEC+ member countries expires in September, the Associated Press reports.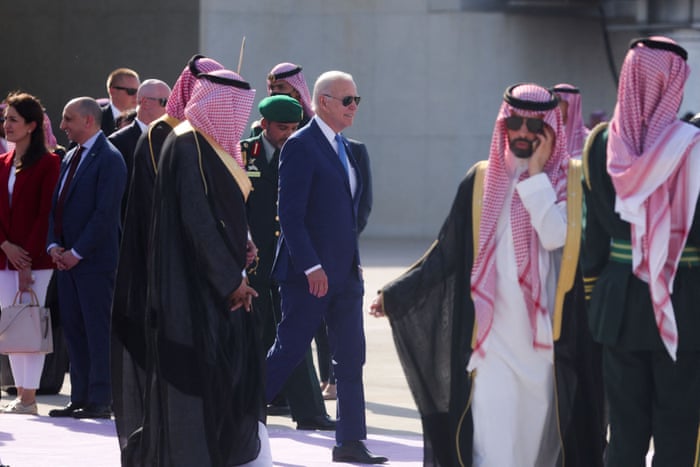 German chancellor, Olaf Scholz, has reiterated Germany's climate protection goals despite growing concerns about the country's energy supply as a result of Russia's invasion of Ukraine.
In a video published on Saturday, Scholz said:
Our goal is that we will be one of the first countries to be CO2-neutral and, at the same time, globally competitive and successful as an economic nation, as an industrial country.

We will make sure now that the development of renewable energies finally progresses – wind power at sea, on land solar energy, biomass … We need all this to produce electricity and hydrogen so that we will have an industrial future without CO2 emissions. We want to accomplish this by 2045.
The first cluster of corresponding laws, he added, had begun to be introduced. More laws would follow later this year so that plans could stay on schedule.

The federal government, the chancellor said, had initially failed on its plan for an overarching and immediate climate programme and had only presented a strategy for transport and construction at first.
He added:
It's bitter that we now have to temporarily use some power plants that we have already shut down because of Russia's brutal attack on Ukraine.

But it's only for a very short time. Because we are really getting started now and want to do everything we can to fight the climate crisis.
Scholz did not comment on energy security for the winter.