Russian foreign minister: peace talks 'don't make any sense'
Russia has shut down the idea of resuming peace talks with Ukraine, accusing it of being undeserving of "serious attention from serious people".
Foreign minister Sergei Lavrov said the previous sit-down proved Ukraine had no "desire to discuss anything in earnest", according to AFP.
The countries attempted to hold talks some months ago but they ground to a halt in April, he added.
Lavrov continued: "They simply will never be able to articulate anything that would deserve the serious attention of serious people."
"[Peace talks] don't make any sense in the current situation."
Key events:
The UK government has finally announced a route for unaccompanied children to come to Britain under the Homes for Ukraine scheme – a month after promising to change the rules.
Around a thousand children, mostly teenagers, have been waiting for visas after they applied without realising they would not be eligible without a parent or guardian.
Many have waited three months or more in precarious situations in Ukraine and across Europe.
Some, like 17-year-old violinist Anastasiia whose story we told earlier in the month, are on the frontline in south-east Ukraine, and have been in serious danger while they waited.
Anastasiia lives in the Russian occupied Zaporizhzhia region, where fighting has been intense, and has been waiting more than three months to join a family in Hertfordshire.
However, communications appear to be down and messages have not been getting through to her for ten days now.
Home Office minister, Kevin Foster, said the new rules mean that "where a Ukrainian parent or legal guardian confirms it is in their child's best interests for the child to come to the UK without them, there is a route for them".
Sponsors will need to commit more time to support a child than the typical six months of the Homes for Ukraine scheme. They will have to pledge three years' care or until the child turns 18.
New applications for unaccompanied children will be open from 10 August, while a backlog of earlier cases is cleared.
An extraordinary video has emerged of a Ukrainian woman confronting officials who attempted to force her husband to join pro-Russian fighters.
Separatists soldiers have stepped up the forced conscription of men in the occupied areas of the Donbas amid mounting evidence of the scale of losses on the Russian side.
The clip, filmed in late June, shows a woman trying to prevent officials from the war commissariat taking her husband to the conscription office in Donetsk.
"He doesn't want to go and fight. Nobody wants to fight. We are so sick of you and your war," she says.
The Russian president, Vladimir Putin, accused Canada on Wednesday of delaying the return of a turbine for the Nord Stream pipeline, saying Ottawa was eyeing the European market itself.
Russia's state-owned energy giant, Gazprom, has reduced flows to Germany via Nord Stream 1 by some 60% in recent weeks, blaming the absence of a Siemens gas turbine that was undergoing repairs in Canada, AFP reports.
Germany said on Wednesday that Russia was using the absence of the turbine as an "excuse" to limit gas deliveries.
The repaired turbine is currently understood to be en route to Russia, as routine maintenance work that completely halted deliveries via Nord Stream 1 is due to be completed on Thursday.
Moscow says the turbine is essential for the proper functioning of the Nord Stream pipeline, which delivers gas to Germany via the Baltic Sea.
"One machine needs planned repairs, it is not given back from Canada because sanctions have been placed against Gazprom, although it is a Siemens plant," Putin said at a televised meeting in Moscow.
"I'll tell you why Canada did it: because it produces oil and gas itself and plans to enter the European market," AFP reports.
The Nord Stream 1 pipeline has been shut down since 11 July for 10 days to undergo annual maintenance.
Turkish president Recep Tayyip Erdoğan said on Wednesday he still hoped to host Russia and Ukraine for talks this week on easing a global food crisis caused by blocked Black Sea grain.
Erdoğan's comments came less than a day after Russian president Vladimir Putin set an unexpected new condition for resuming the deliveries.
Up to 25 million tonnes of wheat and other grain have been blocked in Ukrainian ports by Russian warships and landmines Kyiv has laid to avert a feared amphibious assault.
AFP reports:
The first direct talks between the sides' military delegations since March – attended in Istanbul last week by Turkish and UN officials – came up with an initial draft for resolving the impasse.
The sides had been expected to meet in Istanbul again this week for a second round of talks that both Turkish and UN officials had hoped could produce a final deal.
But Putin said on Tuesday that Russia would only ease the path for Ukrainian grain exports if the West lifts sanctions on Russia's own shipments.
Erdoğan told reporters after meeting Putin on the sidelines of a summit in Tehran that he remained hopeful about an agreement.
Erdoğan was quoted as telling Turkish reporters aboard his plane home:
As a result of a technical meeting held in Istanbul last week, an agreement was reached on the main outlines of how this process will work within UN frameworks.

Now this week, we want this memorandum turned into a written text. We hope that the plan will start being implemented in the coming days.
Neither Russia nor Ukraine have officially confirmed their participation at the proposed second round of Istanbul talks. Erdoğan also did not signal when it might be held.
Russian foreign minister: peace talks 'don't make any sense'
Russia has shut down the idea of resuming peace talks with Ukraine, accusing it of being undeserving of "serious attention from serious people".
Foreign minister Sergei Lavrov said the previous sit-down proved Ukraine had no "desire to discuss anything in earnest", according to AFP.
The countries attempted to hold talks some months ago but they ground to a halt in April, he added.
Lavrov continued: "They simply will never be able to articulate anything that would deserve the serious attention of serious people."
"[Peace talks] don't make any sense in the current situation."
More than 9.5 million border crossings have been made from Ukraine since the beginning of Russia's invasion on 24 February.
The UN Refugee Agency (UNHCR) recorded a total of 9,547,969 crossings over the past 21 weeks, advising that the number reflected cross-border movements rather than individuals.
It estimated an additional 105,000 people moved from the Donetsk and Luhansk regions to Russia from 18-23 February.
Across Europe, the highest number of individual refugees from Ukraine was recorded in Russia (1,728,407), followed by Poland (1,221,596), and Moldova (84, 562), according to UNHCR's data.
Russia has widened its military aims beyond the east of Ukraine, setting its sights on other regions, according to Reuters.
The delivery of weapons from the west to Ukraine prompted the shift in focus from Donetsk and Luhansk to southern regions, some of which are already under the control of Russian forces.
"The geography is different now. It is not only about the DNR and LNR, but also the Kherson region, the Zaporizhzhia region, and a number of other territories," the foreign minister, Sergei Lavrov, said.
"The process is continuing, consistently and persistently."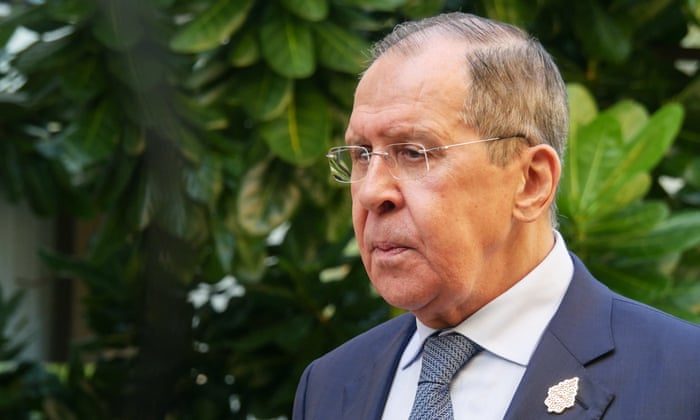 Lavrov warned the Kremlin's objectives could expand further still if the west continued to supply Ukraine with weapons.
"We cannot allow the part of Ukraine that [Volodymyr] Zelenskiy will control, or whoever replaces him, to have weapons that will pose a direct threat to our territory and the territory of those republics that have declared their independence," he said.
Germany has accused Russia of using the absence of a turbine as an "excuse" to limit the flow of gas via the Nord Stream 1 pipeline.
Russia's state-owned energy company Gazprom has reduced deliveries in recent weeks, blaming the absence of the gas turbine which was undergoing repairs.
Yet Germany is not buying the explanation and believes the Kremlin is squeezing supplies in retaliation to western sanctions.
"I would like to stress that according to our information, this is an excuse by the Russian side," a German economy ministry spokesperson said.
Vladimir Putin insisted Gazprom would meet all of its obligations in full, with Nord Stream 1 set to resume operation on Thursday.
But he warned another gas turbine was due for maintenance at the end of the month, which could cause further supply disruption.
EU accuses Russia of blackmail over gas supplies
The European Union has set out emergency plans to reduce its gas use amid fears Russia could cut off its supply in winter.
It has proposed a voluntary target for countries to restrict its usage by 15% from August until March, accusing the Kremlin of weaponising gas exports.
"Russia is blackmailing us. Russia is using energy as a weapon," the European Commission president, Ursula von der Leyen, said in a news conference.
"And therefore, in any event, whether it's a partial, major cut-off of Russian gas or a total cut-off of Russian gas, Europe needs to be ready."
She warned that almost half of member states were already affected by the reduced gas flow from Russia, which has fallen below 30% of the 2016-2021 average.
Under the plans, the EU would be able to make the cutback mandatory if there seemed a substantial risk of severe gas shortages.
The proposal needs to be approved by a majority of EU countries, with its diplomats set to discuss it on Friday.
Reuters has a thorough report on the situation in Ukraine today:
Russian forces shelled eastern and southern Ukraine on Wednesday after Washington said it saw signs Moscow was preparing to formally annex territory it has seized during nearly five months of war.
Uncertainty swirled meanwhile over the planned restart on Thursday of a huge Russian gas pipeline to Europe, as Russian president Vladimir Putin warned that its capacity could be further reduced due to slow progress in equipment maintenance.
Fearing Russia could cut off deliveries, the European Union will set out emergency plans to reduce gas demand within months.
Ukraine's military and politicians reported heavy and sometimes fatal Russian shelling amid what they said were largely unsuccessful attempts by Russian ground forces to advance.
British military intelligence said Russia's offensive in the eastern Donbas region continued to make minimal gains as Ukrainian forces – which Britain helps support – held the line. More than two weeks have passed since Russia's last major territorial gain, the city of Lysychansk.
The Kremlin has said there is no time limit to what it calls a "special military operation" to ensure its own security in the face of Nato's expansion, and that it will do whatever it takes to achieve its aims.
Ukraine and the west condemn the conflict as an unprovoked war of aggression by Russia against its neighbour.
Five civilians were killed and 16 wounded by Russian shelling in the Donetsk region, while two civilians were killed by shelling in the city of Nikopol in the south, the respective Ukrainian regional governors said on Telegram.
Roman Starovoit, governor of Russia's Kursk region, which borders Ukraine, wrote on Telegram that Ukrainian forces had shelled a border crossing there.
Russia's Tass news agency meanwhile cited the mayor of Horlivka, a city in the Russian-backed self-proclaimed Donetsk People's Republic in eastern Ukraine, as saying that one person had been killed and three injured, including a child, by Ukrainian shelling.

Reuters could not immediately verify the Ukrainian or Russian accounts.
Russian defence minister Sergei Shoigu has inspected troops fighting in Ukraine, his ministry said on Wednesday. It cited him as ordering more to be done to shoot down Ukrainian drones operating in border regions and to stop Ukraine shelling areas it has lost control of.
Citing US intelligence, White House national security spokesman John Kirby accused Russia of laying the groundwork to annex Ukrainian territory it had seized since the start of the war on 24 February, an assertion the Russian embassy in Washington said mischaracterised what Moscow was trying to do.
The embassy cast what Ukraine and the west regard as a naked land grab as "returning peace to liberated territories" in order to protect the rights of people regardless of their ethnicity or language – a reference to Russian speakers or ethnic Russians in Ukraine who Russia says it is saving from persecution at the hands of what it has cast as dangerous Ukrainian nationalists.
Kyiv says that Russian narrative is false.
A Reuters snap suggests that a US-made harpoon missile launcher was destroyed in Ukraine's southern Odesa region.
The snap quotes an Interfax report citing the Russian defence ministry.
Ukraine began receiving the Harpoon missiles from Denmark in May as part of wider western arms shipments to Kyiv.
Reuters said it could not immediately confirm the strike.
Russia's communications watchdog has said it is taking steps to punish the Wikimedia Foundation, which hosts online encyclopaedia Wikipedia, for violating Russian law around the conflict in Ukraine.
Reuters reports:
In a statement, Roskomnadzor said that Wikipedia still hosted "prohibited materials, including fakes about the course of the special military operation on the territory of Ukraine", and that search engines would be used to inform users that Wikimedia violated Russian law.
Writing on Telegram, vice-chair of the Russian parliament's committee on information policy Anton Gorelkin said that links to Wikipedia would be accompanied by a disclaimer warning users about legal violations by Wikimedia Foundation.
Roskomnadzor said the measures would remain in place until Wikimedia Foundation becomes fully compliant with Russian law.
The Wikimedia Foundation on 13 June appealed a Moscow court ruling, fining it 5m roubles (£76,000) for refusing to remove what it termed disinformation from Russian-language Wikipedia articles on the Ukraine conflict, including "The Russian Invasion of Ukraine", "War Crimes during the Russian Invasion of Ukraine", and "Massacre in Bucha".

Key bridge badly damaged in Kherson, Russia-installed authorities say
Ukrainian shelling badly damaged the crucial Antonivskiy bridge in the Russia-controlled Kherson region of southern Ukraine, Moscow-installed regional authorities have said.
Reuters reports:
The bridge – one of only two crossing points for Russian forces to territory they have occupied on the western bank of the vast Dnipro river in southern Ukraine – has been a key target for Ukrainian forces in recent days, with Kyiv using high-precision US-supplied rockets to try to destroy it.
The Russian-backed head of the Kherson region, Volodymyr Saldo, closed the bridge to cargo traffic on Wednesday morning in what he called a "temporary restriction" to allow repair works.
Passenger cars were still able to use the bridge, which is more than a kilometre long, Saldo said in an "urgent appeal" published on social media.
Local officials told the RIA news agency that Ukraine hit the bridge at around 4am with 12 shells from the newly arrived high-mobility artillery rocket systems (Himars), a US supplied long-range artillery weapon which Kyiv hopes will turn the tide of the war.
"If the strikes continue, the bridge might collapse," the Tass news agency quoted the deputy head of the Russian-installed administration as saying.

The UK's regular military intelligence update suggests that the Antonovskiy bridge, which was allegedly shelled again this morning after initial strikes on Tuesday, is a key vulnerability for Russian troops in Kherson.
The briefing further notes:
The Antonovskiy bridge is important because it is one of only two crossing points over the Dnieper river which enable Russia to supply to or withdraw forces from territory occupied to the west.
Control of the Dnieper crossings is likely to become a key factor in further fighting.
The city of Kherson is politically and symbolically important for Russia.
Russia continues to make minimal gains in its Donbas offensive, where Ukrainian forces are holding the line.
Ukrainian news agency Interfax carries a report stating that three civilians were killed by Russian occupying forces and one wounded in morning shelling in the Saltiv district of the eastern city of Kharkiv.
The report cites comments on Telegram from Oleg Sinegubov, head of the Kharkiv regional military administration.
Sinegubov said the victims included a 13-year-old boy, a man and a woman. A 72-year-old woman was injured.
The US and its allies are considering possible training for Ukrainian pilots as part of a long-term effort to potentially help Kyiv build a future Ukrainian air force.
Air force chief of staff Charles "CQ" Brown acknowledged that discussions were under way, but didn't confirm any decisions.
He told Reuters:

You want to build a long-term plan on how do you build their air force and the air force that they're going to need for the future.
With the west's provision of anti-aircraft weaponry, Ukraine has been able to prevent Russia from using its far more advanced air force to establish dominance in the skies.
But Ukraine has also sought to move away from its dependence on Russian aircraft by securing US fighter jets and training for its pilots on how to fly them. Ukraine's air force has publicly flagged its hopes for F-15s and F-16s.