Key events
Pete Lansley's report has arrived, so I'll leave you with that. Thanks for your company and emails, goodnight!
Steve Cooper's verdict
I thought tactically we were really good, we just weren't aggressive enough with our press in the first half. In saying that we were a bit unfortunate with their goal. In the second half we were just more aggressive, and a draw was the least we deserved. We had the better chances, even in the first half.

We should take a lot from the performance, and some internal credit for the work the players are doing. If somebody said we'd create that many good chances against a side like Chelsea, you'd take that.

There were one or two things against us today, which seems to be the norm, but that got the atmosphere going.

[Will you sign anyone in January?] Yeah I think so, I hope so. You say it a bit through gritted teeth, because of what went on in the summer and that sense of 'Oh Forest are signing players again'. But the summer was the summer and you have to look at where we are now.
Graeme Souness's withering verdict on Chelsea
I bet their five-a-sides are great on Tuesdays and Wednesdays
Tottenham 0-2 Aston Villa
The other Premier League game of the day was won by Aston Villa, and Tottenham were booed off. Happy new year.
Post-match reactions
Ryan Yates
I think it was [a deserved result]. We didn't get off to the best of starts but we got the crowd going straight away in the second half with a few turnovers and in the end I think we were unlucky not to win the game. We showed a lot of resilience.

The manager told us at half-time to believe in ourselves a bit more. In the first 20 minutes we were too passive, we showed them too much respect. We're at the City Ground, we need to get the crowd on their feet. A few of us were pretty tired towards the end, we put a lot into that.
Serge Aurier
I'm happy for the team. In the second half we deserved more than one point. We've started the year well and now we have to continue to fight together to stay in the Premier League.

[What a goal, tell us about it] Noooo, I tried something and I'm glad it went in to help the team.
Forest and Chelsea both move up a place, to 18th and 8th respectively. Chelsea started well and scored through Raheem Sterling, but they struggled to live with Forest's greater intensity in the second half and Serge Aurier's equaliser was well deserved. Forest's home form gives them a realistic chance of staying up; Chelsea's away performances might cost them a Champions League place.
Full time: Nottm Forest 1-1 Chelsea
Ziyech's free-kick is headed away by Aurier, and that secures a stirring draw for Nottingham Forest.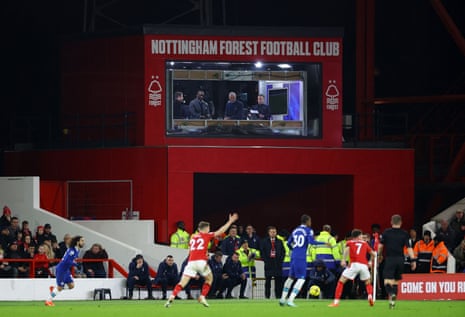 90+3 min Renan Lodi is booked for an absurd foul on Ziyech, who has been superb since coming on. This is Chelsea's last chance, a free-kick 40 yards from goal on the right wing.
90+3 min Chelsea almost create a chance with a slick move, started by a superb ball from Gallagher. Eventually Aubameyang overhits his flick across the area to Havertz.
90+2 min "Aaaargh," says Kim Crawley. "I thought this would happen. Potter should have started with the players he has on the field now. Sterling, Pulisic and Jorginho are passengers against a team like Forest."
90+1 min Jamie Carragher, commentating on Sky, says Chelsea look "a bit weak, a bit soft". They certainly don't look right at the moment, and it's slightly strange to think that they are the current world club champions because they are palpably in transition. Graham Potter deserves at least two years to develop a team; whether he gets them, who knows.
90 min Gallagher loses the ball to Surridge, then fouls him and is booked.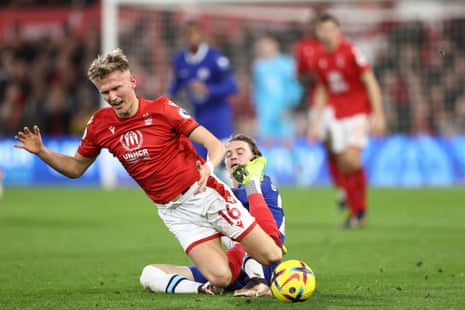 88 min: Forest substitution Neco Williams replaces Taiwo Awoniyi, who gets a deserved ovation from the Forest fans. His pace and directness gave the Chelsea defenders, Koulibaly in particular, a torrid afternoon.
Well, some of the Chelsea defenders; imaginary Opta statistics confirm that Thiago Silva has yet to break sweat.
87 min Gibbs-White, such a classy, elusive player, slips Gallagher neatly in midfield to lead another Forest break. He tries to play a through ball to Surridge with the outside of the right foot, but Cucurella reads it and intercepts.
87 min: Chelsea substitution Carney Chukwuemeka replaces Christian Pulisic.
85 min Awoniyi turns well on the left of the area but then plays his pass just behind the unmarked Colback on the edge of the box. Chelsea have really struggled to deal with Awoniyi today.
84 min "Stirring stuff today Rob," says Peter Oh, though I'm not sure whether he's talking about the soup, the football or both. "Reminiscent of Ramen Abramovich-era Chelsea."
83 min Forget the garbage I wrote after 80 minutes – you eff and cee, Smyth – because it's all Chelsea now and I'm sure Forest would take a draw.
82 min: Forest substitution Sam Surride replaces Brennan Johnson, who has run himself into the ground.
81 min: Chance for Aubameyang! Saying which, Forest could have lost it there. Ziyech, on the right, boomed a glorious deep cross towards Aubameyang, six yards out. He mistimed his stooping header and flicked it just wide. Aurier did well to apply a bit of pressure from behind, but it was still a great chance. Had Aubameyang made proper contact, he would surely have scored.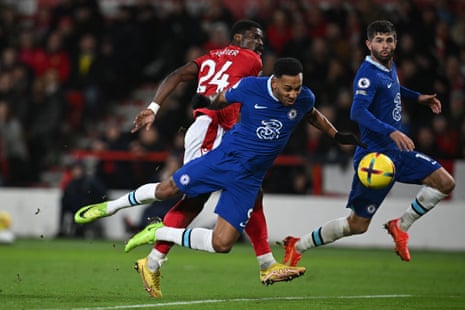 80 min I suspect Forest would have taken this result at 4pm – but with the way the second half has gone, it will feel like a bit of a missed opportunity if they don't win.
79 min "City yesterday, Spurs and Chelsea today," says Jeff Sachs. "They know how to play tiki-taka but cannot score winners."
I've said it all along, City need Darwin Nunez.
78 min: Forest substitution Jack Colback replaces Orel Mangala in midfield. Mangala is the kind of guy-behind-the-guy footballer whose work doesn't lead to many mentions in a liveblog, but he's played well.
77 min "If you are reduced to discussing Romanian soup as a result of the dire standard of football what culinary delight would you be discussing if you had been covering Shrewsbury vs Fleetwood," wonders Dave Manby. "I was there – it was dreadful."
I bet the Romanian Bovril was good though.
76 min Chelsea are having more of the ball now, but they still look very jittery without it. Just like Romania v England in 1998, this could go either way.
75 min "Donut Mystery," is the subject of Joe Pearson's email (and the name of my solo jazztronica project). "I think the word in question (58 min) is 'gogosar'. In a Google translated recipe, it did indeed come up as 'donut'. But all by itself, Google says it's a 'pepper'. Mystery solved, probably."
73 min: Triple substitution for Chelsea Hakim Ziyech, Conor Gallagher and Pierre-Emerick Aubameyang replace Mason Mount, Raheem Sterling and Jorginho.
72 min Lodi breaks into the area from the left and cuts the ball back to Yates, who is about to shoot when his teammate Awoniyi puts him off!
71 min Frueler and Mount have a bit of a contretemps off the ball, and as I type they are still exchanging unpleasantries. Mount has been in a foul mood today.
69 min "Hi Vivek, via Rob," says Paulo Biriani. "Just checked with my wife. I'm definitely real. As is my lingering hangover."
Unhappy new year!
68 min Lodi's awkward cross is controlled superbly by Awoniyi at the near post, but he then mishits a left-footed shot. The first part looked harder to the second.
67 min Forest have been outstanding since the break – and they've shown that they have more than one way to skin a defence. In the first half they counter-attacked; in the second they have overwhelmed Chelsea. I think they have a real chance of staying up through their home form.
65 min "Hello old bean," says Charlie Fisher. "Lentil soup for us here in Prague, čočkova polévka, as my beautiful partner insists on calling it (and I'm happy to follow her instructions)… It's traditional to eat it on New Year's Day for wealth and prosperity over the next 12 months. We had it a couple of hours ago, and I haven't actually checked my account since then, but all of the available evidence seems to suggest I am still broke."
A left-wing corner was headed up in the air by Havertz at the near post. Boly won the second ball and headed it towards Aurier, lurking with intent on the left side of the six-yard box. He took the ball beautifully on the chest and twisted his body to drag a close-range volley through the legs of Kepa. What a cool finish!
GOAL! Nottm Forest 1-1 Chelsea (Aurier 63)
Serge Aurier gets a deserved equaliser for Forest!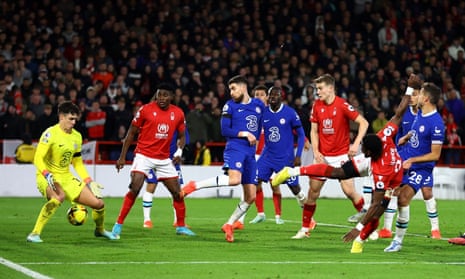 62 min Johnson makes space for a shot that hits Azpilicueta and spins behind for a corner. Chelsea are hanging on here.
61 min: Chelsea substitution Mateo Kovacic replaces Denis Zakaria in midfield.
60 min "There's always a veggie soup available: tomato with noodles or a summer sorrel soup for instance," says Stuart Bowman (see 45+1min). "Usually with a fresh chilli to gnaw on. As for the meat ones, I trust my wife's taste. After all, she married me!"
59 min It's more than just counter-attacking from Forest now; they have dominated possession in the second half, and Graham Potter's response is to get Mateo Kovacic ready. Not literally, he's a grown man.
58 min "Since we all agree a stir-by-stir report would be more interesting than today's football, Mary Waltz made me have to look up Ciorba de burta because, well, why not?" says Espen Bommen. "Figuring an actual Romanian recipe would be more authentic than an English version, I looked one up and put it in Google translate. Quite surprised to see a beef tripe soup also included pickled doughnuts. Is it possible Google translate isn't all that?"
That might explain why my Tom Yum has been shunned by all and sundry.