Key events
There will be plenty of focus in the half-time analysis of the one shot on target. I cannot wait.
"Good morning and Happy New Year from Pittsburgh!" Happy New Year Eric Peterson. "Impressed to see Spurs play those last five minutes of the first half like they'd already fallen behind. That's progress."
A great resolution from Spurs.
"C'mon Will," says Mary Waltz, "don't you get it? Both teams realize many of their fans a suffering from post New Year's hangovers and don't want to upset them with too much action."
I think those people need something to focus on.
Half time: Tottenham 0-0 Aston Villa
Aston Villa have made themselves very hard to break down and therefore this half has been rather tedious.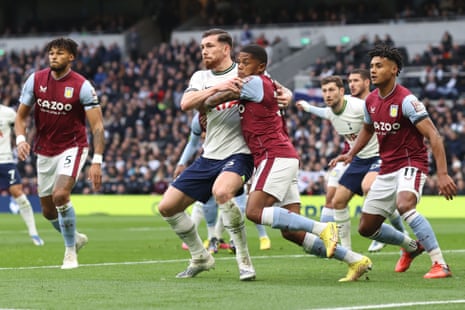 45 mins: Two minutes added on.
44 mins: Son looks to find Kane in space inside the box but he puts too much on his pass, allowing Olsen to come out and claim.
Moments later Son whips in a cross from the left, which hits Young on the elbow just outside the box. A free-kick is given. Son lines up the set-piece to the left of the area. He shoots but it is straight at Olsen.
42 mins: Finally, a bit of excitement. But it is followed up with a couple of minutes of Spurs knocking the ball around.
40 mins: Off the line! Spurs' patient buildup pays off. A ball is played over for Perisic to latch onto; he forces Olsen out of his net and crosses to Kane at the back post to nod at the goalkeeper-less goal, only for Young to dive to his right to head clear.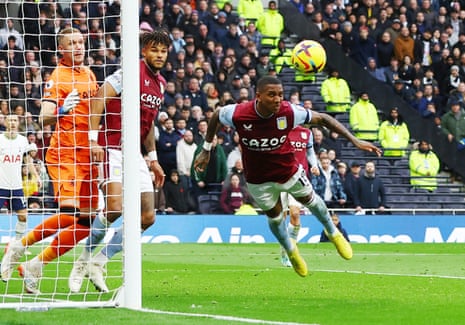 38 mins: Davies is the third Spurs centre-back to be booked. He jumps into a tackle on Young, leaving the Villa man on the turf. Considering Villa have barely attacked, it is impressive that Davies, Lenglet and Romero have all been cautioned. It should be said, all of them were pretty needless.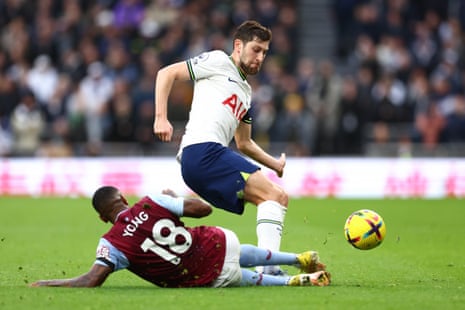 36 mins: Watching this match requires plenty of patience. It is frankly underwhelming. We are still awaiting a shot on target. There have only been three off target to be fair.
34 mins: Villa do not seem to know how to attack when they do get the all in the Spurs half. It is all a bit slow. They seem quite happy to let Spurs have possession and pass the ball side to side.
Joe Pearson emails: "Google wants me to make Ciorba de Perisoare when I search for 'Romanian sour soup'. But it has meatballs, so probably not the same."
I am sure there are many various styles.
32 mins: Olsen catches a cross and immediately throws it out for Watkins to chase but his progress is immediately halted by Lenglet pulling him down. The Frenchman is booked for his troubles.
30 mins: Son swings in a corner from the left but it is dreadful and Young volleys clear from the front post.
"If Villa are playing with six at the back is that parking the mini-bus?" asks David Paradine. I see it as more of a transit van.
28 mins: Mings gives the ball away with a long pass down the pitch but makes amends by whacking into the back of Son to head clear.
Romero is back (and in the book). The World Cup winner jumps in with two feet off the ground and goes straight through Watkins. An impressively crap challenge.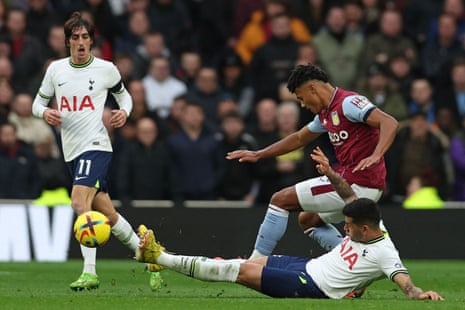 26 mins: I am not sure Bryan Gil has touched the ball yet.
Watkins and Bissouma go for the same ball on the edge of the Villa box. Watkins catches his opponent with a boot on the arm but Bissouma still goes down clutching his head. He eventually gets up.
24 mins: Young is down on the deck after clattering into Davies. Villa do have Cash on the bench, at least.
It is bors. 'The ingredient borș consists of water in which wheat or barley bran, sometimes sugar beet or a slice of bread have fermented.'
22 mins: Aston Villa are playing very deep whenever Spurs get the ball. Emery is very keen on organisation and being tough to break down. I think they currently have six at the back. It is working because Spurs can only pass the ball sideways or backwards.
Good to have options.
20 mins: Son runs back and makes a tackle after losing the ball. He is so frustrated with himself that he removes his Zorro mask to offer protection after suffering a fractured eye socket and throws it off the pitch.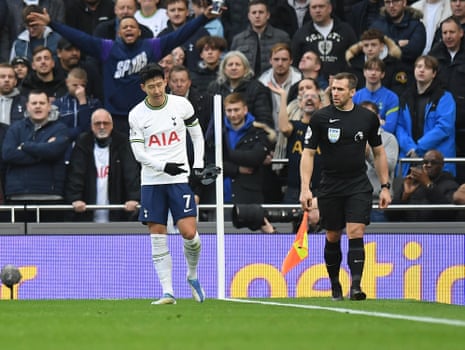 18 mins: Neither goalkeeper has been called upon to make a save thus far and the crowd seems a bit flat. It is classic New Year's Day fare.
16 mins: Doherty chests down a crossfield pass but runs straight into Digne, causing the Spurs man to go down. He shouts at the ref to demand a free-kick on the edge of the box and he should get one but the man in black waves play on.
14 mins: Doherty drives into the box and looks like he is about to shoot from close range but Kamara reads the dangers and gets across just in time to turn the right-back's effort behind.
"Happy New Year Will!" Happy New Year, Yash Gupta. "Even before World Cup it became clear Arsenal will finish ahead and to be honest, it hurts but it is what it is. Spurs last won league back in 1961. I've only seen us win 1 trophy. It has always been about moments in this comedy club which I absolutely adore. So yeah looking forward to Gil balling it and hopefully he scores 2 goals instead of being coming off after 30 minutes. Come on!"
12 mins: "OK Will, I will bite," says Mary Waltz. "What exactly is Romanian soup? General ingredients? Brothy or Stew like? Oh, HNY to the entire MBM universe."
Basically … you boil a chicken in a pan with some veg, bay leaf etc. At the end you add some souring agent (it's some niche stuff purchased from the local Romanian store). For a more detailed answer, I will ask my mother-in-law at half-time.
10 mins: Watkins times his run well and collects the ball in space on the left before cutting in onto his right foot, only to drag his shot wide.
"I've held the opinion that Mings is a borderline dirty player. But I guess that is part of the center back profile?" asks Joe Pearson.
He has committed a few bad fouls in his time, that's for sure, but I do not think he is dirty overall.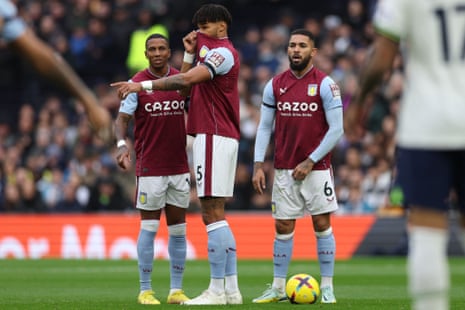 8 mins: Buendia passes the ball out of play rather than to teammate Digne.
It is all pretty even on the pitch, with far more fouls than attacking happening.
6 mins: Son tries to instigate a break but Bailey decides to take him down crudely, mainly out of frustration for not being awarded a free-kick moments earlier.
Spurs knock the ball over the top for Perisic to chase but a free-kick is awarded against him for a little nudge on Young. A weak decision from the ref.
4 mins: Mings takes a few touches too many, then flies into a challenge with Bissouma. Mings is one of those Premier League players I have never been convinced by. Prove me wrong, Tyrone.
Gary Stover emails: "Romanian soup sounds good, but Romanian pizza is the big deal now."
Soup does not give away your location. I hope.
2 mins: Villa enjoy the majority of possession in the early stages. Bissouma takes down Douglas Luiz around 35 yards from goal to give away a free-kick. Spurs do like a slow start after all …
Peep! Peep! Peep! Here we go!
We will start with a minute's applause for Pele and former Spurs player Maurice Norman.
The players are in the tunnel. I would argue Villa have the better pre-match jacket but I am open to persuasion.
Just tucking into some Romanian sour soup pre-match. I live a weird life.
Unai Emery on Martinez being on the bench: "It was our plann. He needed time to rest. He has trained two times. We have Robin Olsen and we trust our players."
On the match: "We did good play against Liverpool but were disappointed with the result. We need to keep the same mentality and we will win."
Leon Bailey: "We are still building, we are lot more understanding of the manager. It is a process for us, we are going to take things step-by-step. It is a big game, we are going to stick to our game plan.
"The game plan today is to create a lot of opportunities. Hopefully we can take one of them."
These on-pitch interviews a mind-boggling, mainly due to the laboured questioning and over-excited camera work. I am not sure it is worth it.
Conte: "It is very important to have Hugo and Romero in the starting XI. They are in good physical condition and recovered mentally.
"In the last games we have conceded the first goal and we have had to come back. We need to pay more attention."
Son: "It is very important we finish in a top four position and we have that in our hands. We need to start well."
Dejan Kulusevski is missing with a muscle problem picked up in training. He is set to undergo a scan tomorrow and Conte hopes he will only miss a single match.
"How is Cristian Romero in the squad today?" asks Alec Butcher. "Surely he's still nursing the world's biggest hangover? Also Gil gets a rare start but expect him to be hooked at 39 mins when Spurs go 0-2 down as is our custom recently. Nice to Pape Sarr and Djed make bench."
Romero is just a committed professional.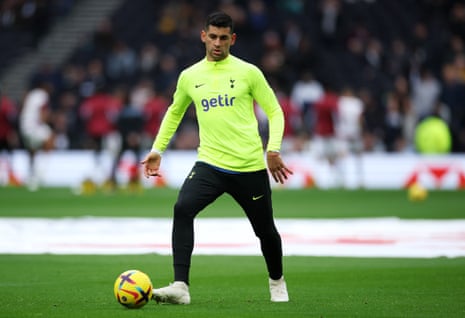 Unai Emery is back in north London. He had a somewhat underwhelming spell as Arsene Wenger's successor. He has won half of his four games in charge of Villa and will see how close his team are to being able to challenge the top six.
Naturally, there is another Premier League match after this one. Here is my look at Forest and the year ahead.
Bryan Gil gets his first Premier League start for Spurs since joining the club in 2021. He is only 21 still, so has time to develop and flourish under Antonio Conte. Today would be a good time to show what he can offer.
How has your Premier League done in the first half of the season? We asked the fans.
Emi Martinez is left on the bench for Villa but Cristian Romero starts for Spurs. Go figure.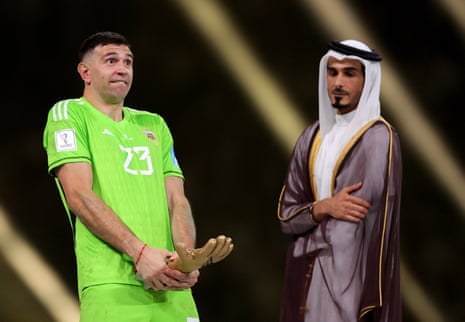 Tottenham (3-4-3): Lloris; Romero, Lenglet, Davies; Doherty, Hojbjerg, Bissouma, Perisic; Gil, Kane, Son
Subs: Forster, Dier, Tanganga, Sanchez, Sessegnon, Emerson Royal, Spence, Sarr, Skipp
Aston Villa (4-3-3): Olsen; Young, Konsa, Mings, Digne; McGinn, Douglas Luiz, Kamara; Buendia, Watkins, Bailey
Subs: Martinez, Cash, Sanson, Ings, Chambers, Augustinsson, Bednarek, Coutinho, Archer
Happy New Year! I hope you have all set your resolutions for 2023. Harry Kane admits his is the same every year: to improve. It is a nice idea but at some point he will regress, so he should just cut back on the sugar or something.
We have, in theory, a re-run of the World Cup final with Hugo Lloris in one goal and Emi Martinez down the other end trying to control his urge to sexualise his goalkeeper gloves. Nor should we forget that Cristian Romero is available for Antonio Conte. It is a slightly different setting to Qatar and we might not get the thriller the final provided but I am optimistic of a decent match.
Villa were turned over by Liverpool in their Premier League return, so will be hoping to kickstart the second half of the season under Unai Emery today, but that is easier said than done.
Spurs have won 12 of the past 14 meetings between the two sides, a sign of their dominance in this fixture. They are struggling for consistency under Conte, perfectly summarised by their comeback draw at Brentford on Boxing Day.
Both sides will be looking to start the year with a bang. Let's hope it's a cracker!
Kick-off: 2pm GMT