Key events
25th over: Australia 61-1 (Khawaja 22, Labuschagne 26) Here goes Harmer. Essex legend, long-time Kolpak player meaning he couldn't play both country cricket and Test cricket, but since Brexit he can do both again. If you want to know more about that, go down some online rabbit holes. And he starts beautifully! Off-spinner, he's got a left-hander in his sights, turning the ball away from Khawaja's edge and beating it. Lots of loop in his delivery. Getting Khawaja playing back when he's straight at the stumps.
24th over: Australia 61-1 (Khawaja 22, Labuschagne 26) Maharaj getting some turn in his third over. Already purchase on day one. Labuschagne is watchful against it. Harmer is warming up as well.
23rd over: Australia 60-1 (Khawaja 21, Labuschagne 26) Impulsive from Labuschagne but it works. Short ball again, outside off this time, and he reaches for it with a horizontal bat, snicking a bottom edge down into the ground between slip and gully. Rabada frustrated but he keeps bowling that length.
22nd over: Australia 56-1 (Khawaja 21, Labuschagne 22) A couple of singles from Maharaj's over, as he lands them more consistently after warming up.
21st over: Australia 54-1 (Khawaja 20, Labuschagne 21) The fifty comes up with a no-ball, then Rabada drops short again and Labuschagne is lining those up now. Whack through midwicket for four.
20th over: Australia 49-1 (Khawaja 20, Labuschagne 17) Spin for the first time in the match, with Keshav Maharaj on. He hasn't done much in the two Tests so far, and bowls a low full toss first ball, cover-driven by Khawaja for four. Whips the next down to long-on for one. Then short to Labuschagne, cut for one. Finally starts landing them right, the ball does turn! And Khawaja turns one perilously close to short leg. Get Harmer on.
19th over: Australia 43-1 (Khawaja 15, Labuschagne 16) Yep, he's starting to read the pace of the surface. Labuschagne plays a square punch off the back foot and hits Nortje for four. That's a perfect shot. Not too far from his body, but he got in the right position and sent it packing. Timing.
18th over: Australia 38-1 (Khawaja 14, Labuschagne 12) I know we talk a lot of mumbo-jumbo about pitches, so I'll try to explain what things look like. We've seen very little lateral movement after the ball pitches. Meaning it's hard for bowlers to dislodge batters. But it also is bouncing fairly low, making it hard to time shots. So you'll hear that it's "flat", but in this case that means it's easy for the batting team to survive, but not easy to score.
Of course, someone like Travis Head might come in and score at a run a ball anyway. And there may be turn when the spinners come on. These are early impressions only. And when the ball it too short, a player in touch like Labuschagne can crash it to the boundary, as he does to Jansen here.
17th over: Australia 34-1 (Khawaja 14, Labuschagne 8) Nortje is perhaps settling in for more overs than he would normally bowl, with his pace coming down to normal fast bowler levels in the 130 kph range rather than 140s or 150s. One run for Labuschagne, chasing width outside leg stump and knocking it fine.
16th over: Australia 33-1 (Khawaja 14, Labuschagne 7) Jansen finally tries a short one, and Labuschagne pulls a run. Khawaja drops another soft-handed edge towards gully and runs a couple.
15th over: Australia 30-1 (Khawaja 12, Labuschagne 6) Drinks break comes to an end. The bowlers have kept Australia very quiet in the first hour, but the runs will come later in the day unless they can find a way to more wickets. Nortje carries on, Khawaja mistiming a cut shot hard into the ground. Looks like there's not much pace in this wicket, the ball is often looping through to the keeper with lollipop bounce. No run from this over either. Will Pucovski has bobbed on TV commentary, he sounds quite confident. A shame he's not out on the SCG.
14th over: Australia 30-1 (Khawaja 12, Labuschagne 6) Three overs, one scoring shot conceded, for Jansen so far. Six more dots in this over, as he gets the line a little closer to Labuschagne's off stump and is shaping the ball inwards a bit. There's one drive to the cover field, and that's the only attempt to score.
13th over: Australia 30-1 (Khawaja 12, Labuschagne 6) Nortje is back quickly to replace Rabada, and finally Khawaja gets onto a pull shot. Rockets it to the boundary, just after flicking a brace. Nortje responds with a snorter to beat the outside edge, serious lift from a fuller length and perhaps some seam movement in. Khawaja had not a single clue about that ball. Survives it though, and doubled his score during that over.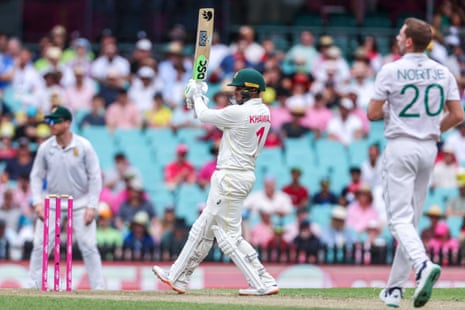 12th over: Australia 24-1 (Khawaja 6, Labuschagne 6) Jansen still all over the place with his line. Coming around the wicket to the right-handed, but still way outside off stump, except a straight ball that Labuschagne flicks straight to square leg.
11th over: Australia 24-1 (Khawaja 6, Labuschagne 6) Rabada finishing his sixth over, coming around the wicket and angling in at the left-handed Khawaja, who again doesn't score. That's 36 balls for six runs for Khawaja. Biding his time.
10th over: Australia 24-1 (Khawaja 6, Labuschagne 6) Jansen on for Nortje after four overs, Dean Elgar following the formula. The tall left-armer doesn't get it right, bowling way wide of off stump and eventually being cover-driven by Labuschagne for four.
Here's an update on Renshaw: he does have covid. He told the doctor he was feeling crook before play, but the teams were already locked in at the toss. Since then he's had a positive rapid test. He's still allowed to play, while keeping his distance from others, as long as he's feeling up to it. If he's not, he can be subbed out of the match. So Renshaw and Handscomb could both make comebacks here. They both got subbed in for the Joburg Test of 2018 too, straight after the sandpaper thing, which was probably the least fun Test ever to play in as an Australian.
9th over: Australia 20-1 (Khawaja 6, Labuschagne 2) Some moves being picked up by Peter Lalor – the Australians included Peter Handscomb as an emergency on the team sheet this morning. Matthew Renshaw has been sitting separately to the other players. So you would guess that Handscomb is a like-for-like replacement if they need to sub Renshaw out of the game? But then, if he had covid then why would he have been picked at the toss? My guess then is that he feels crook, has tested negative, but they're guarding against the test changing later in the match.
Rabada to Khawaja, who again can't get anything going. Runs a leg bye in the end. Labuschagne glances one.
8th over: Australia 18-1 (Khawaja 6, Labuschagne 1) No run from the over from Nortje, Labuschagne leaving alone where he can and defending on the off stump. So they haven't tried the short ball to Labuschagne, which is interesting in itself.
7th over: Australia 18-1 (Khawaja 6, Labuschagne 1) First run for Labuschagne, the old hop and drop to midwicket. Khawaja tries and butchers another pull shot, this time skimming it to mid on. Hasn't got onto one yet.
6th over: Australia 17-1 (Khawaja 6, Labuschagne 0) Nortje continuing his short bowling. Khawaja heaves a pull shot but drags it into the ground and straight to Zondo at square leg. Then gets a good length ball, plays with very soft hands, and edges it along the ground through the cordon for four.
5th over: Australia 13-1 (Khawaja 2, Labuschagne 0) Very circumspect too against Rabada is Labuschagne, after getting on strike. He's had a strong method this summer, starting slow before going large.
4th over: Australia 12-1 (Khawaja 1, Labuschagne 0) Nortje hits a length immediately to Marnus Labuschagne, who sees out the over.
WICKET! Warner c Jansen b Nortje 10, Australia 12-1
The Nortje choice pays off. Pace, bounce. The weapons that he offers. Warner sees some width again, goes for the cut shot again, but the ball rushes through him. Takes the top edge and doesn't have enough elevation to get over the massive Jansen at slip. Bright start from Warner but he falls the way he played.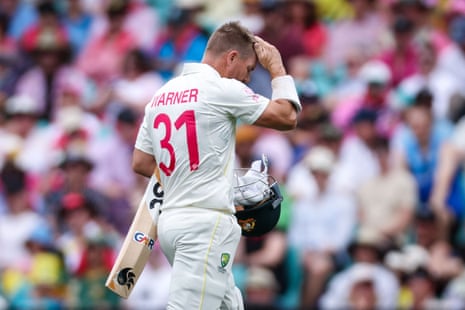 3rd over: Australia 12-0 (Khawaja 1, Warner 10) Too short again from Rabada, this time on a straight line, and Warner can get up and under the pull shot to help it around the corner. Four more. Poor start from South Africa. Rabada finally gets the length fuller and provokes a couple of drives.
2nd over: Australia 7-0 (Khawaja 1, Warner 5) Odd from South Africa. Sure, Nortje has been their best bowler. But he's also super fast and bashes the ball into the deck. On a humid morning with cloud coming over, I would have thought you would give the ball to Jansen first and see if it swings, rather than have Nortje bowl short at the hip. Leg bye, single, pull shot for none. This isn't good use of a new ball.
Murray Henman writes in. "I guess we can be glad that this pitch isn't as green as the Gabba and hope we get to Day 3 for Pink Day. Hoping for a better contest, and thanks for the OBO."
You're most welcome.
1st over: Australia 5-0 (Khawaja 1, Warner 4) So the Old Firm open up, Khawaja and Warner. The latter hasn't been taking the first ball of the innings since that Rabada dismissal in Brisbane. And it is Kagiso Rabada with the new ball. Decent line to Khawaja for most of the over, then strays on the pads and gets nudged for one. So Warner does face a ball from him, just one… and cracks it for four. Square cut, bouncing to the rope, too wide.
Don't forget that you can drop me a line today, as always on the OBO, just as Trevor Tutu has done from across the ocean.
"I thought I would stay up and watch the first hour's play, and see if my sacrifice would cause the Protea batsmen to '… stiffen the sinews and summon up the blood.' But reality has crept in, and I can see that I am much better off going to the local witchdoctor and asking him to brew up some weird potion to fortify our batting line up. Nothing short of a miracle will help those fellows! I am going to follow the first over, and then it's off to get Qonqotwane to make the Proteas invincible. Don't say you weren't warned."
At least, Trevor, you know you can't have a batting collapse this morning? Because they're bowling first.
Gadigal elder Allen Madden gives the Welcome to Country. Then we have the anthems.
So what are the moves? Klaasen for de Bruyn, who has gone home, but South Africa still going for five bowlers despite their paper-thin batting. A different five bowlers though, with Ngidi's pace out and Harmer's spin in. So they've got double spin plus three quicks. Jansen batted well in Melbourne but he still doesn't look like a natural number seven. More like a decent eight.
Australia have Hazlewood back for Boland, and Agar taking up the spot vacated by Mitch Starc's injury. Bear in mind that Agar has barely played first-class cricket in the last three years, and has played 17 times in the last six. And it's not like he has ever set the world alight with his bowling in that format. It's a huge risk to my mind. Renshaw bats at six, you can get overs from Labuschagne, Smith, or Head, but there's a big chance for South Africa to prosper if they can get on top of Cummins and Hazlewood. If they're good enough.
I would have gone Carey six, Agar seven, Boland or Morris in the bottom four. But then maybe they figure they won't need more than three and a half bowlers for South Africa.
South Africa
Dean Elgar *
Sarel Erwee
Heinrich Klaasen
Temba Bavuma
Khaya Zondo
Kyle Verreynne *
Marco Jansen
Keshav Maharaj
Simon Harmer
Kagiso Rabada
Anrich Nortje
Australia
David Warner
Usman Khawaja
Marnus Labuschagne
Steven Smith
Travis Head
Matt Renshaw
Alex Carey +
Ashton Agar
Pat Cummins *
Nathan Lyon
Josh Hazlewood
Australia win the toss and will bat
No surprises there. If you're not sure what a pitch will do, bat. And if you've picked two spinners (!), try to bowl last.
What else has been going on this week? The new CA broadcast deal worth $1.5billion AUD, which they're talking up as a big increase even though it's basically the same annual rate, it has just gone from six years to seven.
It has also gone to Seven, the channel, with Foxtel, the pay-TV lot. Much better situation than England, with not too many games behind a paywall. But a weird decision for a range of other reasons. Here is a partial explanation from a few days ago – things played out almost exactly as we anticipated.
How will the teams shape up? We won't know until the toss, with both reserving their options given the pitch has been hard to read. Green grass on it a couple of days ago, but surfaces have been turning here this season.
Here are some of the things to consider. More recent reports are suggesting that Renshaw and Agar could both play, with Agar one of four bowlers. That would be quite the gamble.
Preamble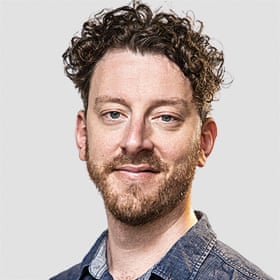 Geoff Lemon
Well, hello. It's a new year and all. First over-by-over of 2023. What a time. Were your celebrations festive? Did you go to glorious parties for two days until you made yourself sick but it was totally worth it? Did you ignore the whole lot and stay quietly at home insisting that it was like any other night? As a friend of the show said, "2023 will still be there in the morning." Whichever direction you took, I hope that it pleased you. And we have one more Test match in the Australian season that may please you too.
South Africa may have already lost the series with the first two Tests, but they're still some chance to make the World Test Championship final based on their results over the last two years if they don't get smashed in this match as well. The likelihood of that, given what we've seen from their batting on this tour, is slim. But the main reason we like sport is the unlikely bits. Just floating it out there.
Australia, meanwhile, could guarantee their own WTC spot with a win here, meaning they could go to India and get whomped 4-0 and it wouldn't affect the standings.
So, a few things to play for in the New Year fixture, which will also feature McGrath Foundation Pink Day on day three. Sydney weather check: the air is moderate in temperature but sticky with humidity. It rained last night, some sun this morning, rain forecast later in the day, but we never really know what's next around these parts. We've had some fast matches this series, so a few delays shouldn't affect the result.