There is no need for a deep dive into how Erik ten Hag has changed Manchester United tactically since arriving as head coach last summer. The key difference is obvious and it is not about tactics: he has brought discipline where it was lacking.
Various players have mentioned in interviews that there is now a structure and accountability. There is evidence of the change in attitude with Ten Hag publicly naming those who need to improve.
Alejandro Garnacho's levels of professionalism were questioned and Marcus Rashford, despite being in great form, was dropped from the team that started at Wolves last weekend after oversleeping and being late for a meeting. Cristiano Ronaldo was twice punished for walking out of matches early and is no longer at the club. The players know they cannot let their standards drop whether in the Premier League, Europe or Friday's FA Cup third round tie at home to Everton.
Ten Hag has used the media to send messages to his players. I spoke to a manager recently who explained that they use interviews to try to reach players or the board on occasion with a comment, because they know everyone listens. There is a reason behind everything they say. Ten Hag is not hiding anything because the players need to understand they are accountable. It is Manchester United, one of the biggest clubs in the world.
In any walk of life people need basic standards. They need to know that if they are late for work there are consequences. People need structure to get the best out of them. Ten Hag has brought the fine system back at United to bring some jeopardy.
I am not sure fine systems are a necessity because punctuality should be a basic that everyone follows but it is having an effect there. At the World Cup I worked with former players who played under Sir Alex Ferguson, and being on time – or even early – was very important to them. That is something they learned at United and that attitude helped create their success. They still live by those standards, and rightly.
Ten Hag has given his players clear instructions and that applies on the pitch too: they know that they need to press at a certain intensity and that, when they drop short of that, he will pull them up on it. At the start of the season, the players do sprint tests to find their top speed and he uses the statistics when they fail to meet standards.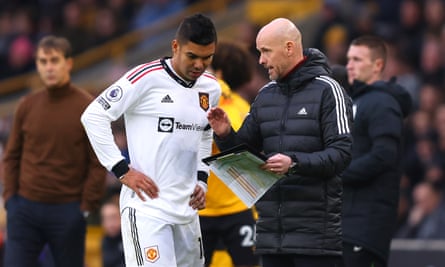 As we witnessed with the Ronaldo situation, Ten Hag is very firm. The rules and guidelines are there for all to follow. Managers need to stick to their principles because, when they change them, they have lost everything. Ten Hag will be keen to move on from the Ronaldo saga and the decisive action taken to release him from his contract will help everyone at the club do that.
Few could doubt the quality Ten Hag had available to him when he arrived and it was a case of getting the best out of it. Smart additions have been made too. By signing Casemiro he picked up one of the world's most disciplined players. The Brazilian does not overcomplicate things – he sticks to his job.
Ten Hag pulled him to the side against Wolves and gave him tactical information that Casemiro quickly understood and implemented. Casemiro knows his role, brings control and orchestrates things. He is a lieutenant and gets the best out of everyone around him.
Whoever is near him has improved, from Fred to Bruno Fernandes. When I played as an attacking player, my defensive midfielder was always the most important because they stop counterattacks and keep the ball moving in simple fashion. When I have watched Casemiro live he has been by far the best player. When you have a player such as him it is an absolute joy for a coach and teammates.
Higher standards in training lead to improvement in matches. Perhaps players such as Rashford have benefited from this. Training with increased intensity is how you change form, not just as a team but as individuals. Rashford is now up against defenders on the training ground who have had clean sheets in their past four games.
In training they will have a pride at keeping goals out, making forwards work harder to score, and Rashford will have to operate to his maximum every day to score. It's been a big shift and gets the best out of everybody. The job of a footballer is to be the best they can be and when a person does that, they drag other people with them.
By creating a structure, Ten Hag is leading United in the right direction. There will come a point in the near future when he decides signings are needed to help in certain areas where the team need the added push.
When that time arrives, the new players will be coming into a positive environment, where everyone knows their role and what is expected of them. What Ten Hag has done is reaping rewards in the short term and will help him for years to come.