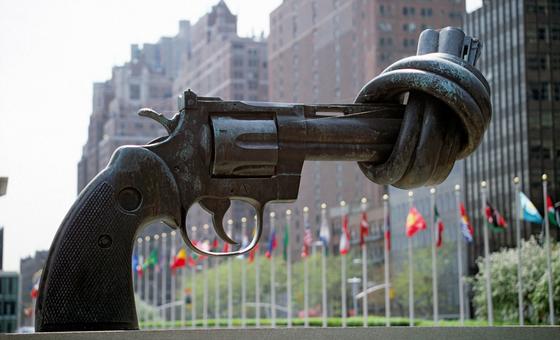 The International Day is observed annually on 2 October, the birthday of Mahatma Gandhi, the leader of the Indian freedom movement and pioneer of the philosophy of non-violence.
"On this International Day, we commemorate not only the birth of Mahatma Gandhi but also the timeless values he championed: mutual respect and understanding, justice, and the power of peaceful action," Mr. Guterres said in a message.
Embrace Gandhi's message
The UN chief highlighted the challenges facing humanity today, including growing inequalities, heightened tensions, increasing conflicts, and the worsening climate crisis.
"We can overcome these afflictions and chart a course towards a brighter, more peaceful future … if we understand – as Gandhi did – that the magnificent diversity of our human family is a treasure, not a threat," Mr. Guterres said.
He urged everyone to strengthen social cohesion and have the courage to compromise, stressing the need to ensure that every individual, regardless of their background, status, or faith, can enjoy lives of dignity, opportunity, and human rights.
"Let us remember Gandhi's wise counsel: 'Our ability to reach unity in diversity will be the beauty and the test of our civilization.' Let us heed his words today and re-commit ourselves to this essential purpose," Mr. Guterres concluded.
The International Day  
The UN General Assembly designated 2 October as the International Day of Non-Violence as an occasion to spread the message of non-violence through various education and public awareness campaigns.  
The Assembly also reaffirmed the universal relevance of the principle of non-violence and the desire to secure a culture of peace, tolerance, and non-violence.